USC Kaufman alumni outline benefits of Career Services
September 23, 2021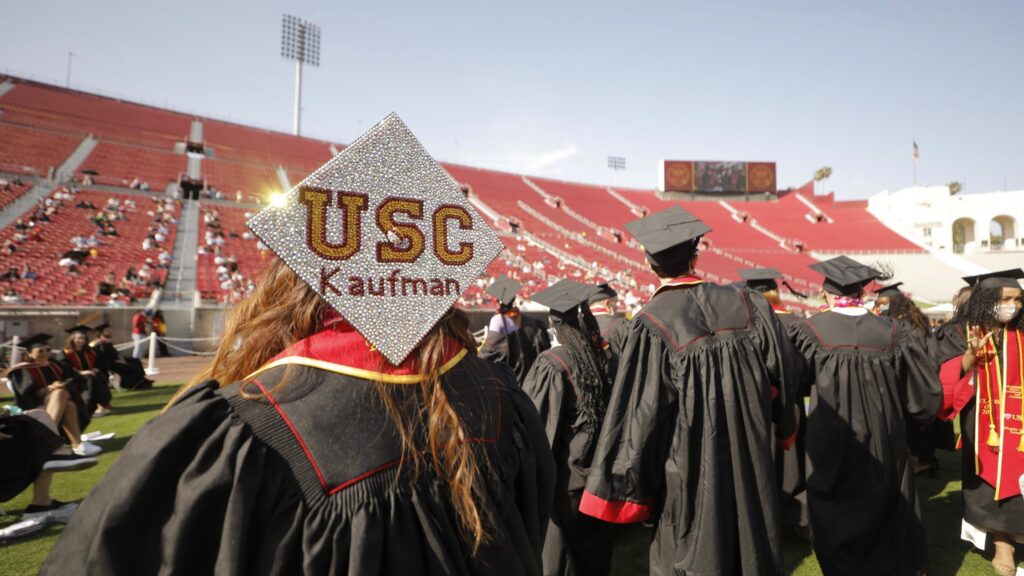 The USC Glorya Kaufman School of Dance is committed to providing meaningful resources to BFA students as they graduate and launch their professional careers. With students' multifaceted career goals, one-on-one mentorship, master classes and networking events have all become necessary aspects of the career service team.
Alumni Sidney Ramsey (BFA '21), Shayna Weintraub (BFA '21), Makayla Bailey (BFA '21) and Brendan Evans (BFA '20) recently shared their experiences with the career services team at USC Kaufman. Ramsey is currently dancing with Ballet B.C. in Vancouver, Canada. Weintraub now resides overseas in Germany at Ballett Schwerin. Bailey is pursuing commercial dance in Los Angeles, and Evans now dances at Northwest Dance Project in Portland, Oregon.
One-on-One Mentorship
Faculty-to-student mentorships have been a vital part of the USC Kaufman community since the inception of the school. Ramsey explained that USC Kaufman faculty helped provide important advice.
"There were a few faculty that were super pivotal in helping me make some difficult decisions," she said. "It was comforting to know that they knew me well enough to guide me in the direction they felt would be best for me."
Fostering relationships with faculty is also important since many of the auditions in the dance industry are invite-only. Ramsey also shared that the contacts she acquired during her time at USC Kaufman were very helpful, especially when a faculty member was able to recommend her to directors.
Evans is also no stranger to the benefits of faculty mentorship. With the last few months of his senior year online, Evans was not sure where to turn to for professional guidance and looked toward career services.
"During the onset of the coronavirus pandemic, there was such a feeling of disconnection across all fields and people," he said. "I quickly learned that if I pick up the phone, the faculty will be on the other line willing and able to answer and offer help."
Evans was correct in this assumption. He is now onto a new adventure dancing with Northwest Dance Project in their upcoming season.
Opportunities to Network
Graduating college and jump-starting an independent career in dance comes with many growing pains, especially when taking on an industry like the Los Angeles commercial dance scene. Bailey wanted to stay in Los Angeles after graduating from USC Kaufman in May of 2021. She is very thankful for the relationships she fostered at career services networking events.
"The commercial industry panel that they held back in 2019 helped me to comprehend everything the LA commercial industry had to offer," Bailey said. "The panel also helped highlight the versatility that the commercial industry had to offer."
Master Classes and Auditions
Auditioning during a global pandemic is no easy task. During this time, the career services team organized virtual auditions for many renowned companies, including Ballet B.C. Ramsey shared that this was one of the most beneficial offerings.
"It was nice having the experience of taking virtual masterclasses and learning repertory online," she said. "One plus side of having Zoom all year was that we had to focus on details right away while reversing the material in real-time. This daily classwork was the best way to prepare us for virtual auditions."
Weintraub also benefited from the auditions USC Kaufman's career services team facilitated. "Career Services presented me with many audition opportunities and guided me in how to communicate with possible employers, as well as how to organize my CV, reel and other application materials," she said. "After my time at USC Kaufman, I have felt confident and prepared to take on a professional career in dance."
USC Kaufman emphasizes hybridity in its learning process, and students finish their four years hungry for a variety of careers. As more students graduate and evolve, the career services team will do the same.
---
By Lennon Torres (BFA '21)