Anne's Admission Advice: Acing Your Audition Demo Videos
October 13, 2020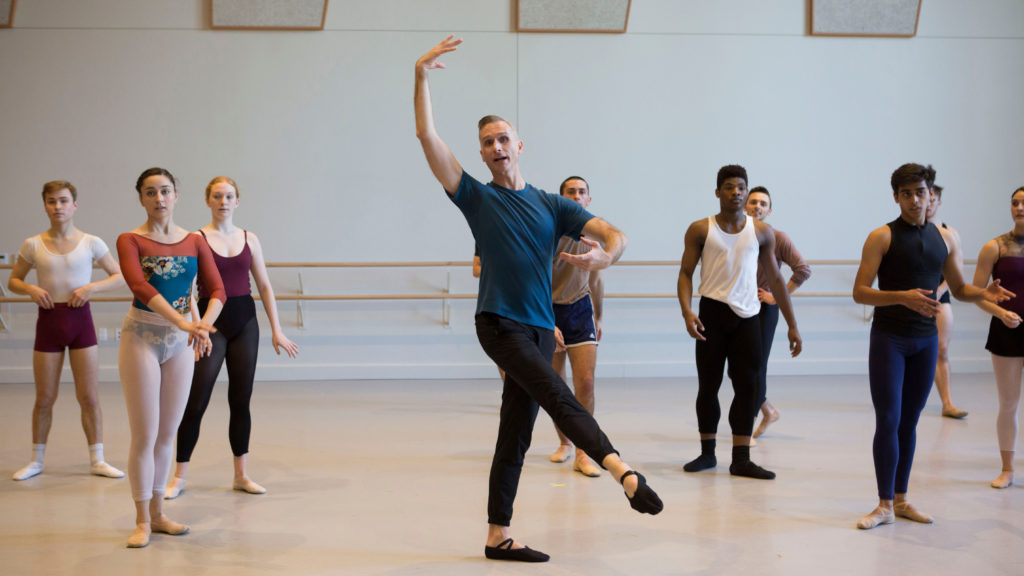 Since we can't have live auditions this year, we had to find a way to incorporate the Ballet, Contemporary and Hip-Hop classes that are usually a part of the process. This is where the six-minute demonstrations come in. For this part of the USC Kaufman Portfolio, you must provide three self-taped videos demonstrating exercises and combinations devised by our faculty. (Faculty videos are available at ksod.dance/auditiondemos. Music is available at ksod.dance/auditionmusic.)
We do not expect you to show us perfect technique, whatever that means, in every style. Instead, we want you to think of the faculty videos as master classes and the exercises and combinations as just a part of those master classes. Here's a more detailed breakdown of each video (what) and specific recommendations from our faculty about how to ace this part of your portfolio (how).
Ballet
What: Professor Bruce McCormick kicks the ballet video demonstration off with a tendu combination for Exercise 1. Beginning on 8 of the 5-count prep, plié brush your leg to the side degagé position, and then a pattern of tendus in combination with pas de bourrées, temps liés, rond de jambes, degagés, and a passé relevé or a single pirouette. Exercise 2 is a waltz that begins in croisé tendu back with the arms in allongé, to go into a phrase that mixes directions changes with balancés, piqué arabesques, fondues to rise, and pirouettes. Then, Professor Jackie Kopcsak takes you through an adagio for Exercise 3. Starting with a juicy chassé forward, this final ballet combination uses steps from Exercise 1 and 2, like the pas de bourrée, pirouette and fondue. While also bringing in new steps like the fouetté from a la seconde to arabesque and the promenade in back attitude.
How: According to Professor Kopcsak, "In the first exercise, we will be looking for generous épaulement and port de bras, a clear sense of rhythm and high rélevés in sus-sous and passé. Be sure to capture the energy of the music! For the waltz, be clear about your how you're shifting your weight and how you're changing directions. Most importantly, connect to a feeling of joy and expansion! Finally, the adagio exercise is a great opportunity to demonstrate your strength, stability, and coordination, as well as the expressive quality of your port de bras. Think about how you can establish a sense of flow and don't forget to breathe!"
Contemporary
What: The Contemporary video demonstration starts off with Professor Patrick Corbin guiding you through the Taylor Back Exercise for Exercise 1. This exercise starts in parallel, hip-width, neutral position and takes you through contractions, high releases, lower back curves, in a 3-count. The pattern goes from sequences that move in two 3-counts, to four 3-counts, to six 3-counts, and finally to ten 3-counts (as the length of the sequence increases, the body's positions widen in range. Then Professor Corbin introduces an adagio from Roses, one of Paul Taylor's more lyrical/balletic pieces, as Exercise 2. Starting from a very comfortable, neutral first position (if your first is turned out more than 45 degrees, less is more), this phrase explores adagio through standing on one leg, pitching/extending/reaching extremities, and embodying iconic modern shapes. Lastly, Professor Corbin breaks down a phrase from Esplanade called "Doris" (as an ode Doris Humphrey) for Exercise 3. The timing goes from a 6-count, to a 4-count, to three consecutive 2-counts, to a 6-count, and then ends with a 4-count. Movement within the combo is an expansion of the shapes from the first two exercises, just with a new application and order.
How: For the Taylor Back Exercise, Professor Corbin explains, "the faculty will be looking for how the dancers are articulating the spine and assuming into and connecting the shapes that comprise the exercise. We are always looking for attention to detail without sacrificing freedom and attack. Key words to think about: Oozy, volume, articulate, thick, heavy, free, successive, contract, release, twist, spiral, float, broad, core, legato." For Doris, "the faculty will be looking to see how dancers approach the floor and return to standing while changing direction. Dynamics, texture and speed are important in this exercise. How is the dancer connecting contrasting dynamics and giving the impression of a slow bounce? Runs! How deep low and smooth is the dancer running? Remember, speed through relaxation. Key words to think about: Fall, recover, contrast, push, slice, dart, jab, strike, wrap, change, twist, small, big, bounce, oozy, volume, deep, weight, counterbalance."
Hip-Hop
What: The Hip-Hop video demonstration begins with Professor d. Sabela grimes breaking down the Funkamental Isos (short for isolations) utilized in Exercise 1. From the top of the head down, the isolations are: chicken neck, reverse chicken neck, what's up, yes, no, chest pop, cavé, sidé, hip hit, throw that, booty pop and Spirit Drop. These are all done while in Foundation Stance, a relaxed yet ready stance with soft knees shoulder width apart. Professor G takes you through the Funkamental Iso circuit as is, just playing with the iso themselves, and then you go through the circuit again adding a bounce. Then Professor G introduces Exercise 2 which is a four-wall soul line dance called "Wanna Party." He goes on to walk through the rhythm, steps and directions that make up the dance. He asks you to go through the line dance three different ways for Exercise 2: once as is, then from beginning to end (do the line dance all the way through, facing all four walls), and lastly freaking the sequence.
To close the demo, Professor Moncell Durden teaches you a combination that combines bounce, roll, rock, skate, hop and pause to create the different grooves and steps in the phrase. There is a lot of layering going on throughout the combo because it is polycentric and polyrhythmic; which makes it the perfect opportunity to meditate on and explore the Funkamental Isos within the different steps.
How: In the words of Professor G, "Funkamental Isos are meant to serve as areas of focus (meditation) on the body that, if isolated properly, become the building blocks of polyrhythmic movement ideas. I will be looking to see how participants follow the guidelines concerning Funkamental Isos and how they execute them together to build multiple rhythms. I'm also looking to see how they personalize/add their voice to the movement ideas. I want to see WHO THEY ARE when they dance. I'd also like to see their ability to play, invent and "make it their own." I am also looking for musicality. Make the music, groove, feeling, etc. visible!  Please don't fake it with your face… feel it from the inside out."
Final Recommendations
When putting together your demonstration videos, the faculty want you to:
"Dance big!"
"Have fun!"
"Show joy!"
"Really go for it!"
"Make it your own!
"Bring your individual artistry and personality to each exercise!"
"Be thoughtful yet daring!"
"Show us who you are through movement!"
I couldn't say it better myself.
---
By Anne Aubert-Santelli, Assistant Dean of Admission and Student Services