Chicago Master Class
October 22, 2017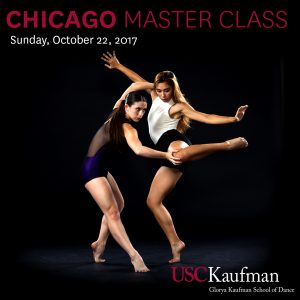 Join us for a half-day program featuring ballet and Forsythe repertory master classes taught by Vice Dean and Director Jodie Gates. The day will conclude with a Q&A about the program and admission process from Ms. Gates. We hope that guardians will attend the welcome with their students. 
Sunday, October 22, 2017
Lou Conte Dance Studio
1147 Jackson Blvd
Chicago, IL 60607
Schedule:
1pm-1:30pm  |  Check-in
1:30pm-2  | Welcome with Vice Dean Jodie Gates (parents welcome)
2pm-3:10pm |  Ballet
3:10pm-3:20pm |  Break
3:20pm-4:30pm |  Forsythe Repertory
Learn more about Vice Dean Gates and our other exceptional faculty members at kaufman.usc.edu/faculty.
View all events