Spring Class Spotlight: Ballet C for non-majors with Jackie Kopcsak
January 6, 2017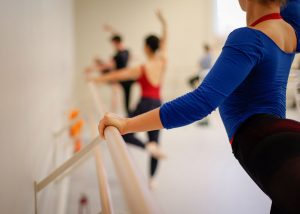 Ballet DANC 183C (Ballet C), with professor Jackie Kopcsak is designed for non-major dance students that have previous dance experience. The course includes "emphasis on clarity, precision, musicality, movement quality, and artistic expression," as well as an "introduction of beats, tours, advanced adagio and allegro combinations, and pointe work."
Who is this class for? What types of people/audiences would enjoy learning this material?
JK: Ballet C is an advanced-level ballet class for students with considerable previous experience or for those who have already taken the beginning and intermediate-level classes in the DANC183 series.
What is the most important thing that a student in this class would learn?
JK: In this class, students work on refining their technique as well developing greater musicality and artistry. I want the students to feel like they are really dancing through the whole class. We work on how to add nuance and texture to different movements–bringing a performative element to even the most basic exercises.
What's the most fun and/or cool part of this class?
JK: It has been wonderful to have a pianist accompany our advanced-level classes. Live music in the classroom makes such a difference and brings inspiration and a much needed uplift to our day!
When is this class? Is it open to majors, minors, or all university students?
JK: Ballet C meets twice a week, Tuesdays and Thursdays from 10:30-11:50 a.m. It is open to all university students.
Do you have a fun anecdote from previous semesters of this class? If so, would you mind sharing it with us?
JK: One of my favorite events is the end-of-semester showcase where dancers from the elective classes perform for one another (and a large crowd of cheering friends). Last semester, Ballet C had so much fun preparing for the showing and they all danced so beautifully; I look forward to seeing what we pull together this spring!