Student Blog: Awe and affection for Forsythe
October 23, 2016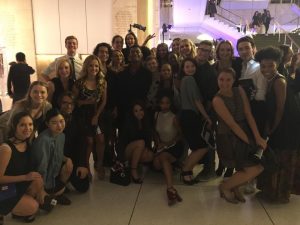 By Alyssa Myers
There are not words to describe the brilliance of what I witnessed last night. As though I were in a portal into a new world, I was able to see the pure genius of William Forsythe, and I felt so honored. This is the man we all call grandpa Bill, the man we spend hours and hours with in the studio. I was in tears last night after such an immaculate show, witnessing the San Francisco Ballet, Pacific Northwest Ballet, and Houston Ballet performing some of Professor Forsythe's amazing works.
Before the show, Forsythe said that he felt so loved to have all these great companies not only performing for themselves, but for him. As the auditorium went black and I saw each stunning performance after another, I felt had fallen into a dream. Pas/ Parts 2016 was so mesmerizing, The Vertiginous Thrill of Exactitude was exciting and playful with a precise quality, and Artifact Suite unfolded the atmosphere of a new world layered with counterpoint. Forsythe had taken me on a journey I had never experienced before. How I felt last night after the final curtain fell was indescribable; I looked around at my peers. Some had cried, some were crying, and some of us just didn't know what to say. We are so honored to have William Forsythe not only teaching our classes, but also being our friend.
I will never forget that lovely evening and the depth of emotions I felt. Describing Forsythe as a genius isn't quite enough. He is so much more. I can't wait to spend the next four years getting to know him.