Student Blog: Learning with the lovely Fiona Lummis
February 9, 2016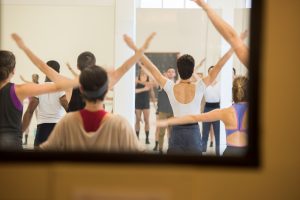 In the shark tank that is college, USC Kaufman students are so unbelievably privileged to have 33 built-in supporters. Even the faculty exudes a familial energy that creates an extremely comforting environment to expand in artistically.
Since the beginning of first semester, we've had a number of guest teachers come in to work with us. Naturally, a bit of adjustment time is required to warm up to our new temporary team member. But our most recent guest, Fiona Lummis, slipped in Monday afternoon as though she'd been here all year.  I immediately felt comfortable around her. I mean, there's the completely superficial  possibility that her sweet English accent sold me first. But what really sealed the deal was the little messy double buns pinned to the back of her head when she came in on the first day. It's not every day you see a woman sporting this hairdo, let alone a woman who danced with Nederlands Dans Theater, a prestigious European contemporary dance company, for twenty years.
Humility just pours out of Fiona, from the way she styles herself to the way she refers to us and to the way she approaches teaching Jiří Kylián's Symphony of Psalms. I'm not constantly reminded of her fantastic resume when interacting with her. Instead, she has efficiently separated herself from it in a way that she and her fabulous credentials coexist rather than correlate. At heart she is a mother of two and it definitely shows. Personally, I've been obsessed with Kylián's choreography ever since I saw Petite Mort in my high school ballet class, so to have someone so warm and approachable like Fiona set his work on us is quite possibly the best situation I could ask for.
Ultimately, I give credit to Vice Dean Gates and other faculty for being so meticulous about the artists they select to interact with us. Each guest artist shapes our understanding of the dance world we are about to enter, so any wrong step could discolor our overall experience. Yet every single one of them has exemplified the new movement and USC Kaufman mission statement with so much integrity; I can see that from the top down, specific and strategic decisions were made. With each new guest that comes in, I am reassured that I am in good hands. With all the guest teachers scheduled this semester, I began to grow a little overwhelmed. But Fiona has lifted a weight off my shoulders, and I feel more at home at USC Kaufman than I could ever have anticipated.