Student Blog: The USC Kaufman minor experience
January 26, 2016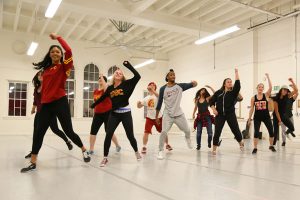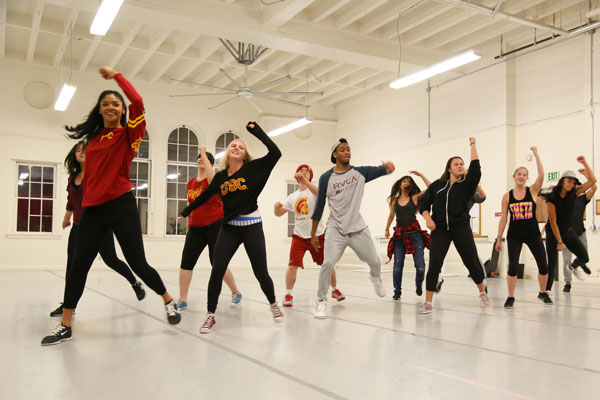 By Haley Finerman
The Kaufman School of Dance is the perfect place for artists who want to leap–literally–into the world of dance and professional pursuit of dance as an art form, but it is also a place where dancers of all levels of technique and passion can hone their craft. Being a dance minor at USC Kaufman gives me many opportunities to explore and learn about movement while focusing on another area of study.
Coming from years of training and performing professionally with the Sacramento Ballet, I knew dance would be a huge aspect of my college experience. While dance was my first love, I soon transitioned to musical theatre, where I used my dance background to propel my career in this realm of performing arts. Toggling between dance and theatre when faced with college applications, I ultimately chose theatre. Expecting my dance technique to falter at this decision, I searched for a school where I could still be heavily involved in the dance department. I could not leave dance behind–not only is dance paramount in one's theatrical career, but, quite simply, dance is one of my devotions and always will be.
Even before I arrived at USC, the Dance Minor was on my radar. I wanted to be training and involved with dance as much as I could. I expected the dance majors at USC Kaufman to be a tight-knit, exclusive bunch of incredibly talented dancers, but the warmth and invitation the minors receive is overwhelming. I met three of the dancers in my general education seminar class. Before class one day, I was completing my minor application form: Celine, Jessica, and Lenai noticed the application and instantly made me feel so welcome into the Kaufman family. In my experience, the dance majors are so encouraging and help facilitate the best environment for the dance minors, which is rarely the case in prestigious programs such as this one. I could not be more grateful to have had the opportunity to dance with several of the majors outside of their classes–they are inspiring to say the least.
As second semester approached, I knew I needed to take advantage of the dance technique courses, so I enrolled in Saleemah E. Knight's Intermediate Jazz class. Even though I have only had three classes so far, every session has been completely stimulating. The USC Kaufman faculty is mind-blowing, and I have already learned so much from Professor Knight.
I could not imagine myself at any other university; the opportunities I have received in just my first few months as a dance minor have contributed so much to my perfect college experience. Thankful to all who have created this program and the opportunities for all dancers.