Student blog: Welcoming a new class to the New Movement
April 25, 2016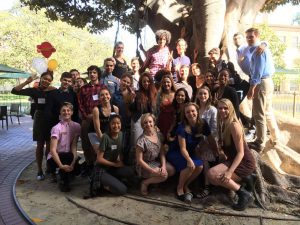 By Celine Kiner
I must admit that my fellow classmates and I have been a little nervous about a class of freshman joining our family next semester. Lately, we've asked our faculty pretty frequently, "will you still love us when they come?"
Of course, their answer is always yes. But we have done our fair share of Facebook stalking, and we know that this new class possesses ridiculous amounts of technique. The admitted students from the class of 2020? They're all absolutely beautiful. We concede that easily. Yet we felt ourselves anticipating the admitted student reception on Sunday, hoping that our new students would frankly just be nice people.
Little did we know that they were just as nervous, if not more. Ausia and Kaylin arrived Saturday afternoon on a flight in from Texas, and I greeted them outside my apartment building. Both girls were painfully sweet–they went straight for the hug–and conversation between us was anything but sparse. Within five minutes, I breathed a sigh of relief. They had questions and smiles and were bubbling with excitement, and it was easy to tell that they would fit right in with our family.
Sunday's reception introduced us to three more students: Alyssa, Yena, and Brendan. They had no trouble blending in with our slight insanity, and although a little shy, we could see that all five would compliment us well. And we could see that each were as passionate about being a part of the New Movement as we were. They laughed in all the right places at Professor Grimes' jokes, they struck a pose with us for a group photo, and they wore their USC Kaufman name tags with pride. And I think we welcomed them warmly; we're as thrilled as they are about their presence here next year.
"I was so nervous about visiting and fitting in," Ausia told me as we left the reception. "But now I have absolutely no worries. I feel like I can definitely be myself here."
While we know the faculty will always love us, we're happy to make room for the class of 2020. Next year is set to be even better than this one, especially with the freshmen keeping us on our toes.