Student Blog: Family of 50
April 17, 2017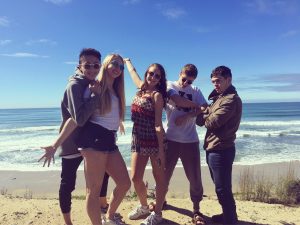 One of the best things about spending a minimum of 40 hours a week with my Kaufman family is the closeness that has developed between us. Given the amount of hours we spend in class and rehearsal, you might think we would want to spend our free time apart.  However, even on our days off, we often find ourselves together outside the studio.
It can take a while to become comfortable and make new friends in a brand new place–especially so many miles away from home–but not at USC Kaufman.  I remember meeting Dean Robert Cutietta and Vice Dean Jodie Gates on Ramo Lawn on the very first day of Welcome Week, in a gathering held for the class of 2020 and our parents.  We all sat around eating açai coconut bowls, taking pictures, and just getting to know each other.  From that day forward, I knew I was going to love every single one of my classmates.  Later in the week, we were introduced to the Class of 2019 Kaufman students at a private dance party.  I recall being so nervous but also extremely excited to meet the rest of my Kaufman family.  The party, at Tommy's Place, included a DJ, a photo booth, tons of snacks, and a cake with all of our pictures on it.  My favorite part of the night, besides the fantastic food, was being assigned to our sophomore mentors and receiving our Kaufman bags and jackets.
As the first week of classes began, the freshmen and sophomores would hang out after rehearsal and have improv jams in the studio.  We played fun music and just let loose without the limits of choreography or technique class, sometimes until late in the evening.  I remember watching some of the sophomores play around in the studio one specific night; I was completely blown away.  I felt incredibly intimidated, but I couldn't wait to work and collaborate with them in the future.  These were some of my best memories of our first few weeks of the fall semester.  Although the improv jams don't happen as much as they used to, just the opportunity to be in classes and rehearsals with my Kaufman classmates is incredible.  It is never hard to find inspiration from my classmates, and while rehearsing and taking classes with them is amazing, there is nothing better than the feeling I get when I perform alongside my Kaufman family.
Some of our best gatherings happen in our very own collaborative space, inside the Glorya Kaufman International Dance Center.  Almost every Sunday, the freshmen get together to do homework, write papers and study for tests and quizzes.  Not only do we use the collaborative space for homework, but we also order pizza and watch special events on television: the Oscars, the Victoria's Secret Fashion Show and, of course, football!
Earlier this year, a couple of classmates and I took a weekend trip to San Diego.  The dancers had the weekend off from rehearsals, so several of us drove down together and spent hours bouncing from store to store, shopping.  When we were thoroughly exhausted, we stopped for a big dinner and then a gorgeous walk on the beach and watched the seals.  There are so many places to explore in California, and we never grow tired of the incredible beaches here on the West Coast.
Every day I am constantly reminded how lucky I am to be at the USC Glorya Kaufman School of Dance.  I absolutely love all of my classmates and professors, and I couldn't imagine being anywhere else. I am thrilled to spend the next three years with my Kaufman family.