USC Kaufman + Hubbard Street 2 at USC Fisher Museum
July 20, 2015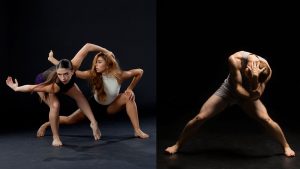 The USC Glorya Kaufman School of Dance has partnered with Hubbard Street 2 to present a new site-specific collaborative work at the USC Fisher Museum of Art.
In a 26-minute performance, dancers from USC Kaufman and Hubbard Street 2 will interact with the video installation "20/20: Accelerando" by visual artist Lita Albuquerque. The installation, spread over the three large rooms of the Fisher Museum, includes a 20-by-20-foot square of thick rock salt and three synchronized 26-minute videos by Albuquerque.
Dancers will improvise material based upon a solo originated by Professor Thomas McManus, created in collaboration with William Forsythe for his work Quintett. Guided by Forsythe's CD Rom "Improvisation Technologies" the dancers will create ever-changing landscapes of interaction – danced "conversations," informed by the video installation and soundscape.
This free event is open to USC students, faculty and staff. Space is limited. RSVP at fmoa@usc.edu
Thursday, March 24, 2016
2:30 p.m.
Fisher Museum of Art
USC University Park Campus