Works in Progress offers sneak peek of repertory
February 24, 2022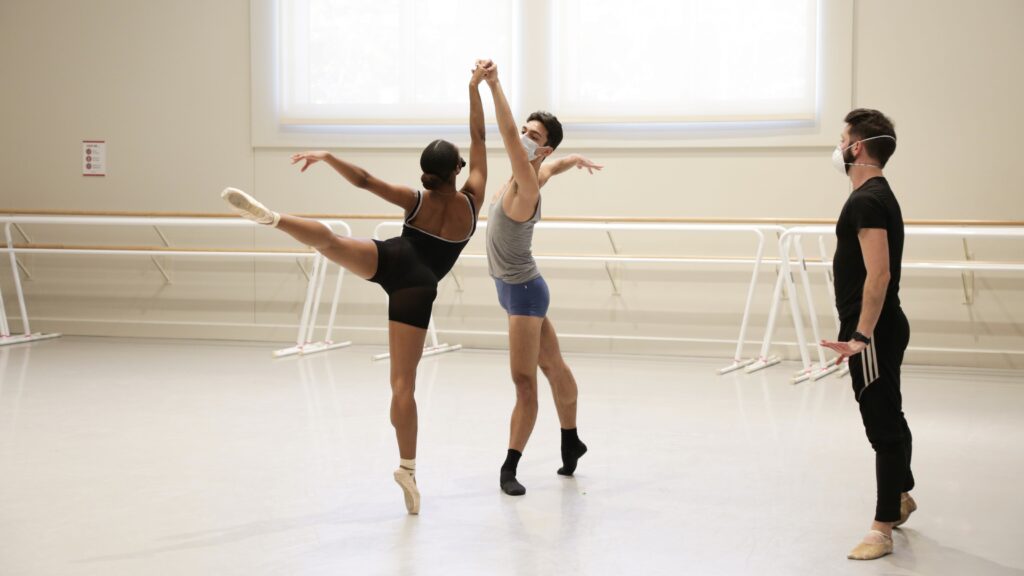 USC Glorya Kaufman School of Dance BFA students have been hard at work learning a variety of repertory by faculty and guest artists. As the University approaches the semester's midpoint, USC Kaufman will present Spring Works in Progress, a look into material the BFA students have been working on.
A mid-semester sneak peek
On Friday, March 4, BFA students will perform excerpts from current repertory, as well as present work from BFA technique classes. Following this show, students will continue working on repertory to perform at the USC Kaufman Debut at The Wallis Annenberg Center for the Performing Arts in April. Thus, this showing not only gives students the opportunity to share what they have been learning so far in the semester, but offers friends and family a sneak peek of some of the repertory that will be shown at The Wallis.
"This is an informal showing so it is much more casual than what will be performed at The Wallis," said Professor Jackie Kopcsak, Assistant Dean of Faculty and one of the organizers of Spring Works in Progress. "The students look forward to this because it's a chance to practice performing these pieces before it gets more intense at the end of semester showcase."
Since there are multiple casts for the repertory pieces, this showing also offers students another opportunity to perform.
The show's program
BFA students from all the classes at USC Kaufman will perform in this showcase. The program consists of six works, including repertory from faculty and Artists in Residence, and pieces of classwork.
Members of the Class of 2022 and the Class of 2023 will perform Big White Room by Artist in Residence Tessandra Chavez. This is a new work and will have its world premiere at The Wallis in April. USC Kaufman faculty member Achinta S. McDaniel will also be premiering a new Bollywood piece at The Wallis. Members of the Class of 2024 and the Class of 2025 will perform an excerpt of this work at Spring Works in Progress.
A mix of students from all classes will perform excerpts of guest artist Justin Peck's Rodeo, staged by Artist in Residence Michael Breeden. In addition, Artist in Residence Toyin Sogunro has set a new work on members of the Class of 2025. This connection of cypher and set choreography is on the program for this showing, which will also premiere at The Wallis in April.
Finally, the showing includes classwork from USC Kaufman faculty members E. Moncell Durden and Saleemah E. Knight. Professor Knight's class is jazz technique, performed by members of the Class of 2024. Professor Durden's class is a cross-technique vernacular jazz course. Members of the Class of 2024 and the Class of 2025 in this course will present material from these classes at Spring Works in Progress.
The New Movement
Spring Works in Progress, in alignment with The New Movement mission, will emphasize the School's focus on hybridity and create an opportunity for students to share their work.
"Works in Progress is going to show a variety of all that the program offers, how we are continuing to grow, and the versatility and talent of the students," said Professor Shannon Grayson, who is helping to organize the event. "We have a lot of different genres being shown by students, and the intent of each piece in the show is very different."
USC Kaufman Artists in Residence are supported in part through generous funding from The Choi Family Artists in Residence Fund. Spring Works in Progress will take place March 4, 2022 at 3:00 p.m., 5:30 p.m. and 7:30 p.m. at the Glorya Kaufman International Dance Center. Reserve tickets today!
---
By Hannah Doerr