2019 New Movement Residency Artists Announced
April 5, 2019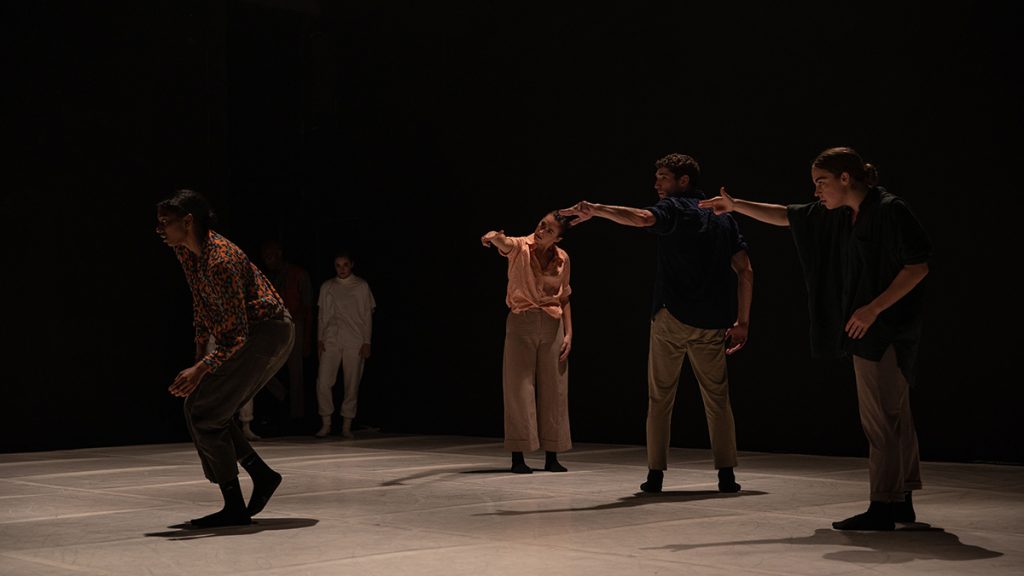 The USC Glorya Kaufman School of Dance has selected three Southern California-based choreographers for its 2019 New Movement Residency. The artists include Marissa Osato, Micaela Taylor and Tony Testa. During the residency, Osato will create an evening length work that investigates Japanese Americans caught between two cultures; Taylor will work on a piece that unfolds an individual's ever-changing relationship to self; and Testa will work on a submission to choreograph the 2022 Olympic Winter Games in Beijing.
The three-week residency will take place at the Glorya Kaufman International Dance Center between May and June 2019. This is the second year that USC Kaufman will be hosting this program. It aims to support the creative process by providing access to space, mentorship and other resources.
Marissa Osato
A Los Angeles native, Marissa Osato is a choreographer, director and educator who creates emotionally-driven, embodied narratives to find cross-cultural universality within shared experiences. Osato is the co-founder/co-artistic director of Entity Contemporary Dance, an LA-based dance company rooted in contemporary and urban dance techniques. Osato recently earned an MFA in Choreography from California Institute of the Arts. She also holds a BA in Dance and BA in Literary Journalism from the University of California, Irvine. Osato has taught contemporary dance master classes at and set choreography on over 50 studios and colleges across the U.S. In addition, she has taught in Asia, Australia, Canada, Europe, Guam and South America.
During the New Movement Residency, Osato will work on a piece called The Spectacular Society. Using the U.S. government-sanctioned Japanese internment camps during WWII as a dramaturgical framework, The Spectacular Society investigates the physical and psychological liminal spaces of Japanese Americans caught between two cultures. This evening length work follows performers through vignettes of calm and chaos as they probe questions of marked bodies, assimilation, mimicry, witnessing, patriotism, community and spectacle. The Spectacular Society re/presents an embodied archive of the past while provoking questions about present societal repetition.
Micaela Taylor
A professional dancer, teacher and choreographer from Los Angeles, Micaela Taylor trained at Marat Daukayev School of Ballet and Los Angeles County High School of the Arts. She graduated from Cornish College of the Arts and earned a Bachelor of Fine Arts in Dance in 2014. She has worked and performed with Ate9 Dance Company, Zoe Scofield, Camille A. Brown, Kate Wallich and BODYTRAFFIC. Her choreographic passion led her to found Los Angeles-based contemporary dance company, The TL Collective, in 2016. She is a Ford Theatres 2019 Artist-in-Residence, the recipient of the Inaugural EMERGE Choreographic Award and was recently named one of Dance Magazine's "25 to Watch." She will be choreographing for Gibney Dance Company and BODYTRAFFIC in the 2018-19 season.
During her residency, she and her company TL Collective will work on an original dance piece entitled Drift, which was recently performed on the Ford stage. Her plan is to enhance and expand the piece prior to the company's debut at Jacob's Pillow in June 2019. She also hopes to take advantage of the residency's mentorship resources. "Having another eye, viewpoint and input only broadens my perspective and gives me time to consider new possibilities," she said. Drift unfolds an individual's ever-changing relationship to self. In a season of singleness, when someone is otherwise alone, who else can they develop but themselves?
Tony Testa
Since moving to Los Angeles in 2005, Tony Testa has choreographed for Janet Jackson, Kylie Minogue, Ariana Grande, Britney Spears, Demi Lovato, Jennifer Lopez, Versace, So You Think You Can Dance, America's Got Talent, Dancing with the Stars, X Factor, Disney, the Grammy Awards, as well as multiple projects for both Franco Dragone and Kenny Ortega. He has also made dance for the Los Angeles County Museum of Art, TEDx and the Parliament of the World's Religions. In addition to his work in the pop industry, Testa actively supports non-profits such as Homeboy Industries, The Advot Project, Creative Visions, The Wooden Floor and The Painted Turtle. He is trained in tap, ballet, jazz, contemporary, various street dance styles, flamenco and butoh. He was born and raised in Fort Collins, CO.
Since he started choreographing, Testa has always been in awe of the spirit, sophistication and sheer scale of the Opening Ceremonies of the Olympic Games. According to Testa, "this event not only represents one of the rarest and grandest displays of artistry in the modern world, but it also brings humanity together as united nations, even during times of global conflict." During his time at USC Kaufman for the New Movement Residency, Testa will create a submission to choreograph the 2022 Winter Games in Beijing. He hopes that this opportunity will bring him closer than ever to his childhood dream.