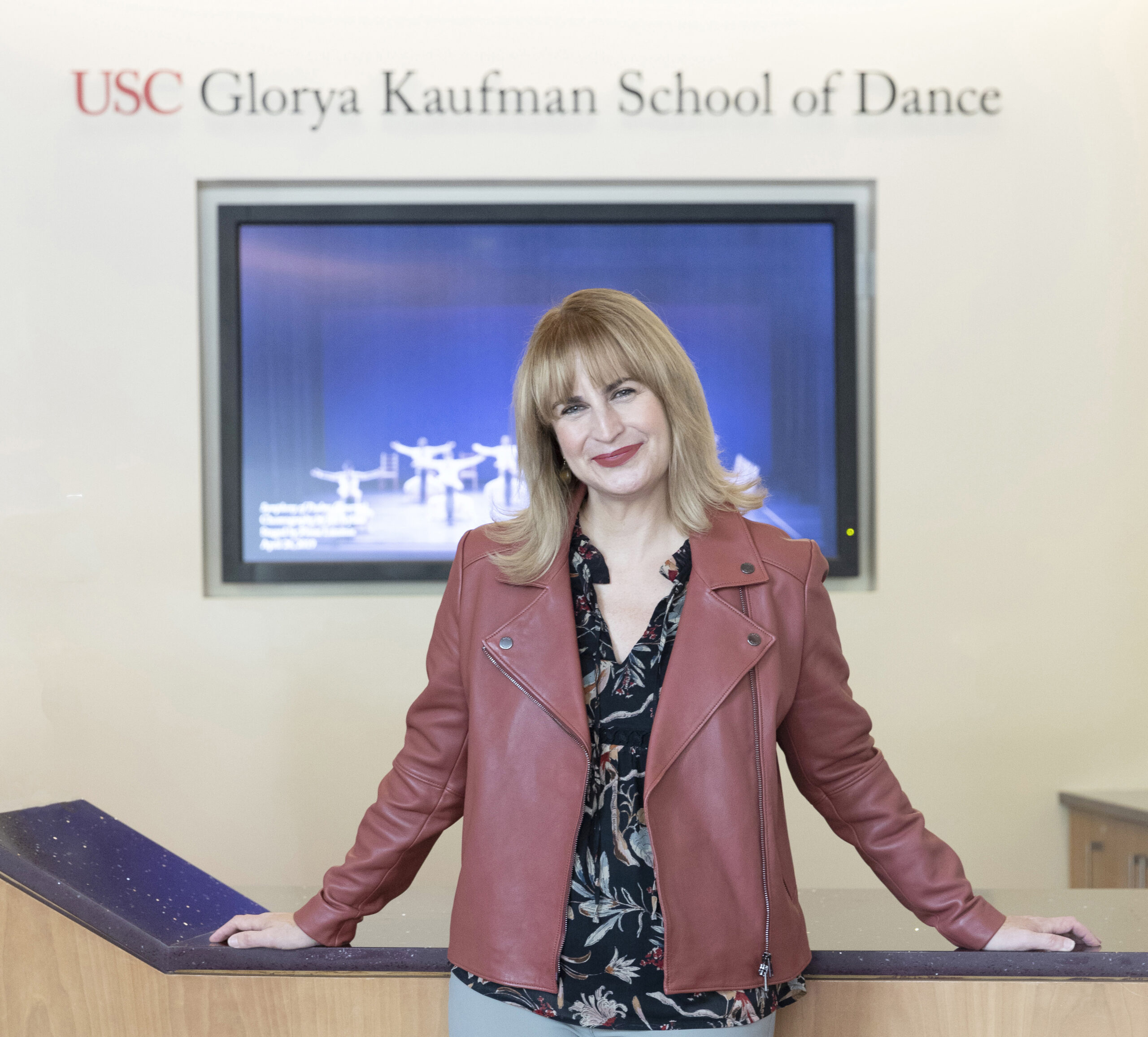 Welcome to the USC Glorya Kaufman School of Dance, a dynamic community of artists and scholars. We are dedicated to practicing dance as an art form and a research modality that transforms lives and unites diverse individuals through artistry, scholarship, and creative public engagement. Founded in 2012 with a gift from visionary philanthropist Glorya Kaufman, we are one of six arts schools at USC training the next generation of creative thought leaders through academic excellence and ground-breaking, interdisciplinary creative research.
USC Kaufman students learn in a diverse, collaborative environment where their skills can flourish while working with world-renowned faculty, artists in residence and guest artists from across the globe. They study at our state-of-the-art facility, The Glorya Kaufman International Dance Center. It is located in downtown Los Angeles, a city boasting one of the largest creative economies in the world. Here, students enjoy access to some of the nation's most outstanding performing arts venues, inspiring art galleries, beautiful libraries and over 200 museums. There are abundant opportunities for students to immerse themselves in this arts-rich environment while experiencing an enormous breadth and diversity of cultures and traditions. Furthermore, students benefit from the environment of USC, a large, preeminent research university, where they discover new interests and passions to maximize their potential to thrive in their careers and as members of society. Our committed, compassionate staff members ensure students receive professional guidance to navigate their journeys from campus to their careers successfully. USC Kaufman alumni are dancing in international companies, initiating critical dialogues about social justice, innovating multimedia projects, and forming their own collaborative dance companies. USC Kaufman dancers imagine, ideate and innovate, continuing a legacy of ingenuity that is expressly Trojan.
Our nation and our world face daunting challenges that call for new ways of considering how we engage one another with respect and empathy. As our school's first dean dedicated to dance, I am committed to fostering a culture of inclusivity and expanding access to dance practices of all styles and forms by amplifying existing programs and developing new initiatives. Through USC Kaufman's innovative model of dance education, The New Movement, students cultivate fluency in multiple dance forms and hone their critical thinking and artistry to address contemporary issues and societal concerns. The school's rich and diverse curriculum invites essential conversations around how different dance cultures find confluence so that our graduates may thrive in all contexts. Lastly, I aim to build understanding around how dance intersects with and contributes to the humanities and sciences through arts-integrated approaches for the common good, as demonstrated by recent projects by students and faculty. At the heart of these conversations are our students, whose artistic expression and intellectual inquiry are essential to shaping our curricula, programming and culture. USC Kaufman serves as a model for change, seeking to address pressing problems and forging more equitable futures for dancers, audiences and communities.
Dr. Julia M. Ritter
Dean
USC Glorya Kaufman School of Dance