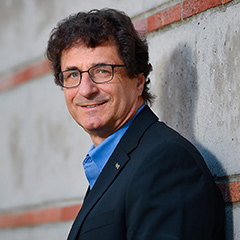 Welcome to the USC Glorya Kaufman School of Dance website. It is exciting and humbling to be the first dean of the world's newest dance school.
We are creating a visionary school that will be at the forefront of developing dancers, choreographers and dance leaders for the future. Three beliefs guided the creation of USC Kaufman.
First, successful dancers must be technically excellent artists who understand their art completely, from its past to its future. Dancers must immerse themselves in a variety of dance styles, stay abreast of technological changes—such as motion capture—that will impact the dance world in the future, and develop a curious mind about an evolving and dynamic art form.
Second, we believe that artists do not create art "apart from" society but as "a part of" society. A conservatory quality of dance instruction must be embedded in a broader educational model that explores the issues of today's world from the perspective of the human experience. The vibrant liberal arts education provided by the University of Southern California, among the best in the world, will help develop dancers who have a depth of understanding of the human condition. It has been said that you can train artists to reproduce art beautifully in an isolated environment, but only artists who understand the world from a broader perspective can create great art.
Third, and perhaps most importantly, the new school must be grounded in the realities of the dance profession. Dancers must learn how they can spend a lifetime in the field they love. The length of performing careers in dance is shortened by physical limitations. Understanding the means of staying healthy will prolong a performance career, and understanding the workings of the industry will allow dancers job options long after they have left the stage.
A lifelong career in dance begins here.
Dr. Robert Cutietta
Dean
USC Glorya Kaufman School of Dance