A.I.M by Kyle Abraham Winter Intensive
December 11-15, 2023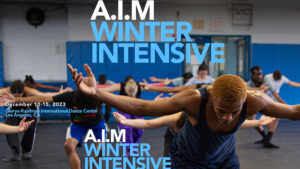 A.I.M by Kyle Abraham is returning to LA for its annual Winter Intensive, again this year at the Glorya Kaufman International Dance Center. Join Kyle and A.I.M December 11–15, 2023 for a week of technique classes, creative process, professional development, and more!
Winter Intensive will be free to all participants to ensure accessibility for our community (housing and travel are not provided). Participants all selected by application, capacity is limited. Recommended for aspiring and professional dancers ages 18 and over.
December 11-15, 2023
10:00 AM–5:00 PM PT daily (with one special extended day for an exclusive company showing!)
Glorya Kaufman International Dance Center849 W. 34th Street, KDC 203
Los Angeles, CA 90089-3521
Sample Schedule*:
10:00–11:15 AM: Technique Class
11:30 AM–1:00 PM: A.I.M Movement Workshop
1:00–2:00 PM: Lunch (Conversations w/Kyle and A.I.M Artists throughout the week)
2:00–5:00 PM: Repertory inspired Creative Process with A.I.M Company Members
*Times are subject to change. Please indicate in your application if you have any scheduling conflicts throughout the intensive week.
The application, which includes submitting a short movement sample and personal artistic statement, is open from Tuesday, October 10 through Sunday, October 22 at 11:00 PM ET. The movement sample should be no longer than 60 seconds in length, unedited, of yourself with no other dancers pictured. The movement should be your own choreography, or an improvisation. The video should not be a dance reel. Video samples should be material you feel best showcases your artistry as a dancer. Participant capacity is limited and we are only accepting responses for a limited time, so be sure to send yours in! All applicants will be notified of their acceptance via email by the week of November 1.
Please contact education@aimbykyleabraham.org with any questions.
View all events