Activated Chambers: A Performance Journey Featuring yMusic
December 4-5, 2019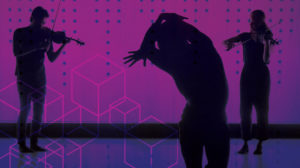 December 4 & 5, 2019 | 6:00 p.m.
Glorya Kaufman International Dance Center
849 West 34th Street
Los Angeles, CA
Join us as the magnificent Glorya Kaufman International Dance Center is electrified by a flurry of music, dance, and video. In a three-part event, small groups will be guided through activated chambers of performance showcasing collaborations between choreographers and composers from the USC Glorya Kaufman School of Dance, the USC Thornton School of Music, and the internationally acclaimed chamber ensemble yMusic.
Presented by USC Visions and Voices: The Arts and Humanities Initiative. Organized by Jennifer McQuiston Lott (Dance), Dawn Stoppiello (Dance), Andrew Norman (Music), and Rick Schmunk (Music).
View all events