Student Blog: Applications – The waiting game
March 7, 2018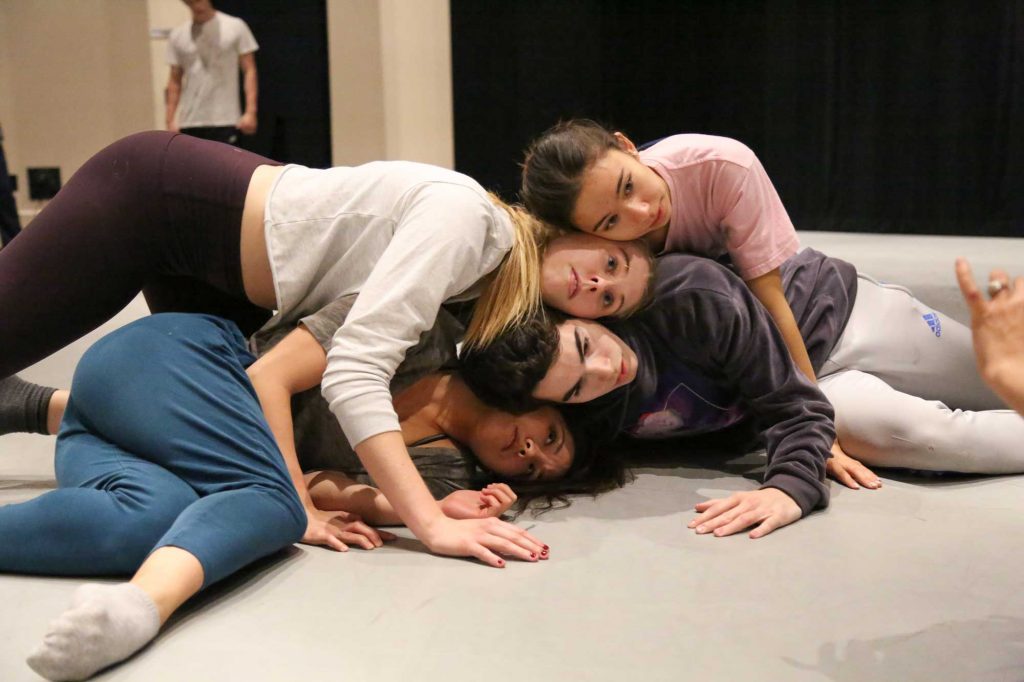 By Chloe Kuka
It's that time of year for high school seniors—a frenzied period of checking email inboxes and refreshing application portals obsessively. It's college admission letter season! With the April 1 decision deadline fast approaching, we asked freshmen Zack, Londyn, and Matthew about how they got through the stressful but exciting period of time between applying and auditioning for colleges and receiving their admissions decisions.
What was the waiting process like?
Zack: Waiting for admissions decisions was in no way peaceful or stress-free, regardless of what people say. Yes, auditions were done, but the biggest life change was creeping up on me, and these admissions decisions would point me to the place I would call home. It's crazy. Now that I got all of the negative out, I can look at the insanely positive aspects. It took a lot of work to get where to where I was at the time. It was so hard to travel for auditions, prepare solos, craft resumes, and write essays. The 'waiting game' was a chance to just let life take the wheel and take a chill pill for once. I really had no control over what was going to happen next, but there is so much beauty in the unknown.
Londyn: The waiting process was extremely nerve-racking for me. I had a lot of talented friends in my high school class applying for the same schools as me, and I knew a lot of the current Kaufman students. I knew how amazing the program was based on what my friends in the program had told me, and it made me want to be accepted all the more.
Matthew: It was extremely difficult. You are trying to figure out the next steps in your life, and not knowing all your options can make you anxious. It's important to not get discouraged in the waiting process. You have to trust that after all the waiting is done, you are going to end up where you are meant to be.
Describe this time period in one word.
Zack: Gratitude.
Londyn: Anxious!
Matthew: Challenging.
How did you keep yourself motivated and engaged while waiting for admission decisions from various college dance programs?
Zack: There was a passion that drove me to go through the process of applications. In order to stay motivated, I tried to remember the fire that pushed me through that. I reminded myself that even if things didn't turn out the way I planned, there are a million and one ways to reach a goal.
Londyn: I kept myself motivated during this time by really focusing on enjoying my remaining time in high school. I made more of an effort to hang out with my friends and family because I knew I wouldn't have them around all the time next year. I took advantage of every dance class with my instructors back home. I stayed driven by embracing the people around me and remembering how blessed I am to have them in my life.
Matthew: I kept myself motivated by continuing to train hard in my dance classes and excel in my academic courses. Senior year is so stressful because it's a transitional phase in your life and staying motivated until the end is not always easy. Knowing that you need to graduate with high marks to maintain admittance at some universities means there's no room to slack off.
Who was your biggest supporter during this time and how did they help you?
Zack: The connections I made growing up with my family and friends are truly priceless, and they became my biggest support system during this time. It is so important to hang out with your friends and spend time with your family. Looking back, I am grateful that I pushed myself to embrace my family and friends from back home, because soon I wouldn't get to see them every day.
Londyn: My biggest supporter was definitely my mother. We are a very religious family, so we would often pray about the process together. My mom helped me by reminding me to remain positive and by encouraging me every day.
Matthew: My parents were my greatest supporters. They rallied behind me every time I found out I got in somewhere, and congratulated me with hugs and talks about each school. When the going got tough, and I was still waiting to hear from all of my potential programs, my parents continued to stress the fact that I was going to end up where I needed to be. That definitely put my mind at ease.
What advice would you give to students who are waiting to hear about their admission to various dance programs?
Zack: At the end of the day, you have a passion and no one can take that away from you. Regardless of the decisions programs make, the drive that got you to the door of all of those auditions will continue to push you wherever life takes you if you let it. Let it.
Londyn: If I could give any advice to students waiting to hear about admission decisions, it would be to think positive. It is important to remember that you will end up in the place you are meant to be. Remain confident in yourself and remember that you are an amazing and talented individual.
Matthew: The advice I give to those going through the college process currently is first, take a deep breath, and recognize that no matter where you end up, the hard work you put in during your time in college will determine the trajectory of your career in the field. You get what you put into each and every program. You have to pick a place that you feel passionate about, that you want to be a part of, and ultimately holds a place in your heart. If the outcome of your dream school is a no, you'll find a new dream school that values and loves the artist you are. College decisions do not determine your talent, intelligence, or the impact you leave on those around you. Find the place you fit best in and run in that direction! Merde to everyone as they figure out where they decide on. It's not easy, but at the end of it all, you will feel happiness and fulfillment.