Safe Spaces: Assessing your current dance space
September 8, 2020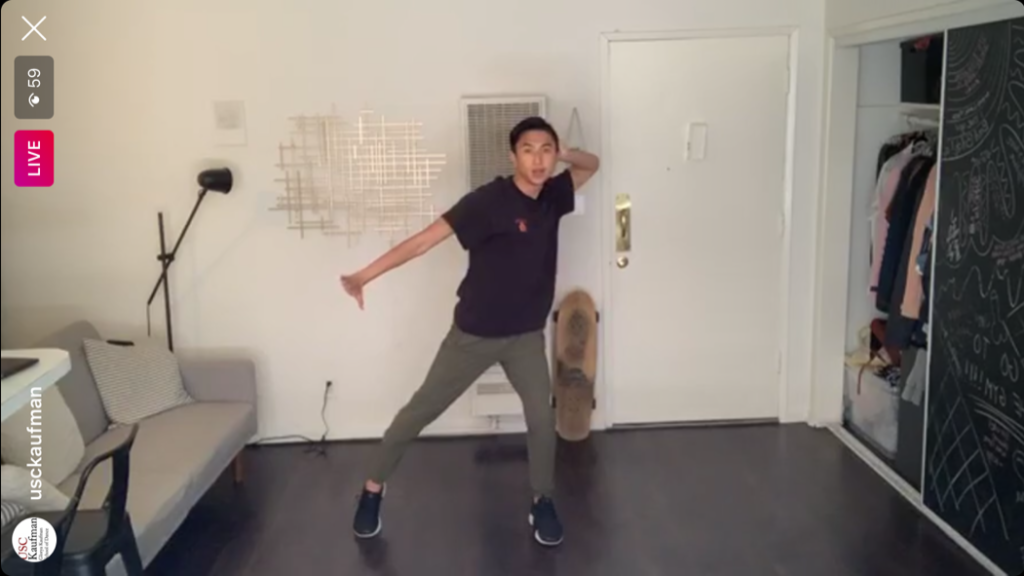 In light of social distancing efforts due to COVID-19, USC Kaufman BFA students and dance students around the world are currently taking classes remotely. As people dance in spaces in which they are not used to, conducting a quick spatial assessment can ensure dancers have the ability to move to the fullest capacity.
Spatial checklist
Dr. Marisa Hentis, Instructor of Clinical Physical Therapy and Dance, compiled a short checklist for dancers taking virtual classes:
Perform a quick body scan to check in and see how you are feeling today.
Identify any potential risks in the area which you are taking classes.
What additional equipment do you need to be successful?
Can you see the instructor?
Can you hear the instructor?
Do you need to warm up more than what the instructor may take you through?
Identify potential risks
She also recommends making adjustments to the space as needed if dancers identify potential risks after their initial scan.
First, dancers should ensure that there is enough physical room to move. They should check to see if there are any objects in the way that might limit dancing. If indoors, she suggests being mindful of lamps, ceiling fans, objects on counters or walls, and pets. If outdoors, she recommends being on the lookout for benches, trees, sticks or litter.
Class modifications
Once the space is set, dancers should decide what components of class need to be modified, if at all. Since students are dancing in alternative spaces, some parts of choreography cannot be danced full out. According to Hentis, familiarizing yourself with the space and choreography will help students perform in class to the best of their abilities.
In terms of flooring, she recommends checking to see if the floor is level and to avoid any areas where the floor is uneven. If dancers need to supplement flooring for specific classes, she suggests looking into purchasing portable hardwood or marley flooring to improve the class experience.
According to Hentis, lighting is an important aspect for a successful class as well. She recommends adding or removing any lighting necessary to see instructors, peers or yourself better. In addition, dancers should think about equipment needed for class, such as specific shoes, a foam roller or resistance bands. Technology, such as laptops, earphones and monitors, should also be assessed in advance.
Finally, she advises students to notify other people sharing their spaces to avoid interruptions in the artistic thought process. Transitioning to dance outside the studio is a process that comes with time, she said. Each dancer's space is unique and takes different modifications to be successful.
Explore different avenues of wellness and get tips from Dr. Hentis every Friday on Instagram as part of USC Kaufman's #FeelGoodFriday series. 
---
By Marisa Hentis and Brigid Murphy