Barak Marshall Brings "Monger" to USC Kaufman
November 13, 2017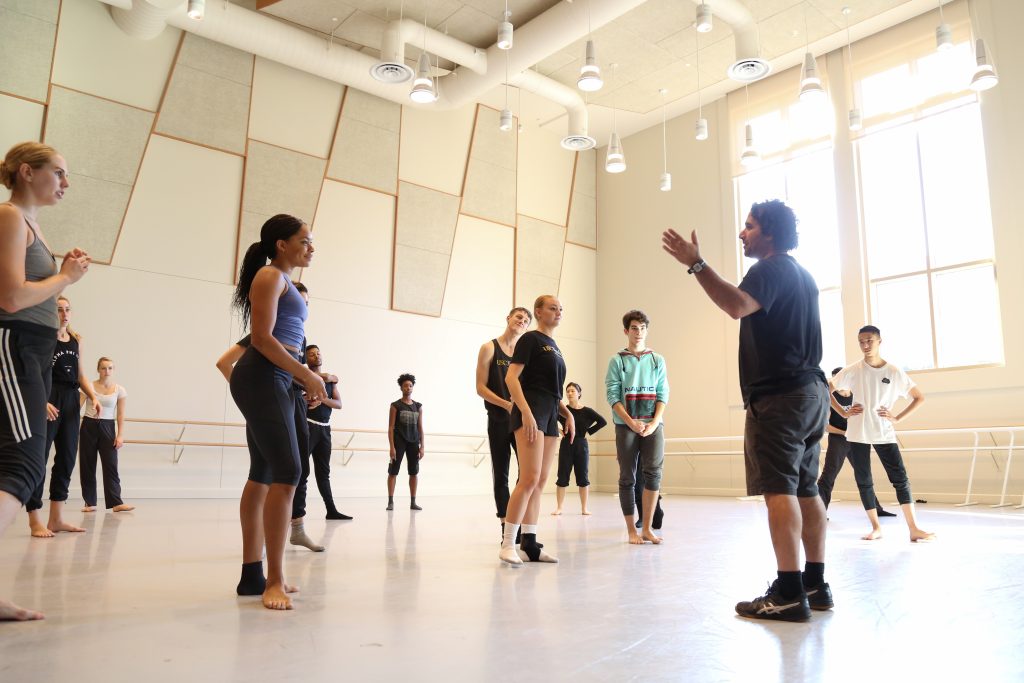 World-renowned choreographer and native Angeleno Barak Marshall set his work "Monger" on Kaufman sophomores and juniors for their BFA Fall Dance Performances taking place November 14-19.
Since serving as the first-ever in-house choreographer for Batsheva Dance Company from 1999-2001, Marshall has split his time between Tel Aviv, Israel and Los Angeles. He hopes his mentorship while here at USC Kaufman has helped students to understand  "the culture of dance-theater."
"I hope that I've imparted that without them there is no dance, there is no choreography—that they are the most important part of any piece," he said. "I hope that I've given them the freedom to bring not just their technical abilities onstage, but to bring themselves, their own histories and their own lives to it."
"Monger", created in 2008, marked Marshall's return to the dance world after severely breaking his leg in 2001. With its run-on gestural phrase-work, plot-centered vignettes and elements of pure spectacle, this piece immerses the Kaufman dancers into Marshall's comedic, yet thoughtful dance-theater narrative.
Marshall says his movement style is "influenced by both sides of my DNA—from the Israeli side of my mother to the Jewish-Bronx experience of my father. I just really draw upon that very rich heritage in creating my work."
Furthermore, he finds his pieces are characterized by, "movement [created] like a piece of text. I come to my work trying to create a piece of theater. The movement that I create is really a sort of sign-language of its own. At the end of it all, I'm just trying to create a story that communicates to the audience clearly and simply, and hopefully touches them emotionally." This was a concept the BFA students connected with immediately.
"I probably could have created double the amount of work in the time we had," Marshall said. "I had to really slow down because they were hungry for it, and I was so excited to work with them that we could have gone on. We created a 23-minute piece and I could have doubled that time easily because they were that good and that committed and that smart."
For Marshall, this experience hasn't been a challenge at all, but instead a "breath of fresh air." He said he's been, "blown away by what vice dean and director Jodie Gates and the faculty have been able to create [at USC] in such a short amount of time."
Having grown up in the city, he says, "It's been a long time since I've felt this again– this renaissance of dance in L.A." He sees USC Kaufman as a focal point in that rebirth.
"[A great school for dance], for me, is the most important component of the dance world—of the L.A. dance world—now. And I'm sure Kaufman will have a major impact, not only on dance in Los Angeles, but dance in the United States," Marshall said.
He continued, "I am beyond impressed with the level of dancer Kaufman has been able to attract. They're phenomenal. The culture they have created here, which recognizes how important it is to expose the students to a myriad of dance forms, is something that is rare in all the academies and dance institutes that I have been to. It's why [Kaufman is] and will be at the top of dance education."
---
By Sara Silberman