Student Blog: Barak Marshall's Monger
November 6, 2017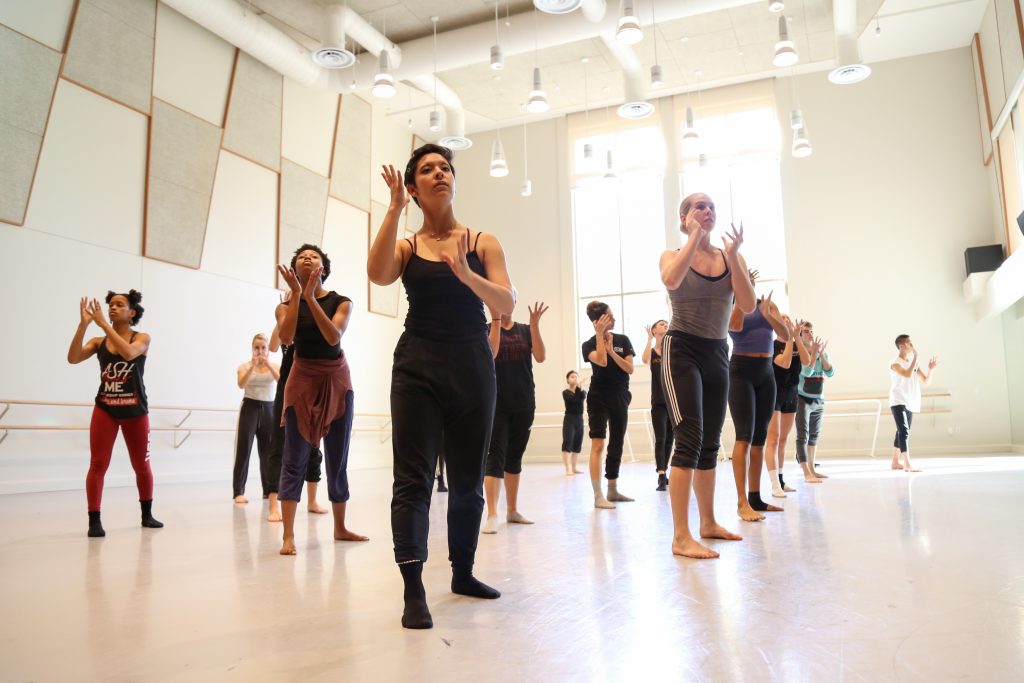 By Alyssa Myers
Recently, the Kaufman building has been filled with excitement, preparing for shows such as the Student Showcase and Midterm Works and Progress. But these are not the only projects that Kaufman students have been working on. For the past three weeks, Barak Marshall (former resident choreographer for Batsheva) has been setting Monger on the sophomore and junior BFA students. Learning Monger, one of Barak's first works, has been an incredible opportunity–we're all incredibly grateful.
Creative compassion
What my classmates and I find so wonderful about Barak is his kind and compassionate nature, not only as a choreographer, but also as a human being—just like all of us. Through the process of setting the work, Barak repeatedly would remind us that his goal was to develop each and every one of us as artists. For him, the rehearsal process was not about just setting his work and cleaning it up. It was about the artists' voice and their humanness.
Monger also consists of texts, where the dancers have to be vocal on stage to project a dialogue between the servant and the tyrannical Mrs. Margaret. Through these tasks, we all came to appreciate the art of voice. There is so much significance in pitch, volume, and character when speaking in a theatrical setting. With coaching from Barak, I think all of our eyes have been opened to the difficulty, precision, and confidence required to convey the characters of these forgotten and mistreated men and women.
Delving deeper: Monger's cultural context
Barak has always shared how important his culture is in shaping his work. Every gesture means something and it comes from his Isreali upbringing. There is a cultural understanding that has to be acquired by the dancers for them to produce and connect to what he has taught us.
Just last week, Barak did something I haven't experienced with another choreographer. He brought his culture to us in the most personal and touching way; he brought his family. When his mother and father came into the rehearsal space, we all were filled with such awe and gratitude. Barak's mother, who was an actress, singer, and dancer with Inbal Dance Theatre Company, shared her love and wisdom with us. Barak encouraged her to dance, drum, and sing for us—all of which gave us admiration for such an incredible woman. Through sharing his home with us, Barak gifted us a very personal aspect of his history. This is something that we will all cherish and bring into our interpretation of Monger.
I have so much appreciation for him and his compassionate heart. Like all experiences, they come to a close. When Barak leaves, I think I can speak for all of my classmates when I say that he will greatly be missed.