Jeff Thacker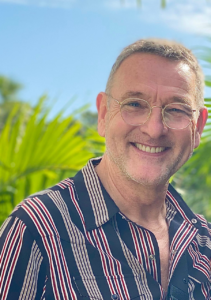 Jeff Thacker is one of British Television's foremost and elite Entertainment Producers and former head of Music Programming on ITV. His background as a dancer, choreographer and producer has enabled him to work with the biggest names in the music and entertainment industry.
Thacker started his career dancing with the World famous TV group "The Second Generation." Having their own weekly 'live' show on BBC TV for over six years gave him his basis and expertise in the world of entertainment, music and production.
As a choreographer, Thacker has worked on numerous major entertainment shows on British TV, winning many awards for his contributions. He choreographed many Robert Palmer videos including "Addicted To Love," which was a worldwide phenomenon and was named as "The Best Male Video of the Decade".
Throughout his career, his own programs have won numerous prestigious awards including a BAFTA, an EMMY, the Bronze Rose at Montreux, two Television Press Awards and a 'Mention Speciale' at the television festival in Montreux. He has also received additional nominations for two Emmys, three BAFTA Nominations, The New York Film and Television Award, five consecutive Record of the Year Awards, and two National Music Awards for his contributions to music. For So You Think You Can Dance alone, where he is an Executive Producer, he received five consecutive Emmy nominations between 2011-2015. There have been many other awards for TV shows he has worked on, with such major artists as Sir Elton John, Pavarotti, Jennifer Lopez, Cher, Britney Spears, Diana Ross, Enrique Iglesias, Sting, Celine Dion, and the list goes on!
Thacker has also had the great honor of being the Associate Producer and Producer on eight Royal Variety Performances for the late Queen Elizabeth II, including two of the most watched in history in 2001 and 2003. For ten years Thacker was also a producer on BBC's "Children In Need," the UK's most prestigious telethon.
In 2001 Thacker was appointed Head of Music Programming for ITV and was responsible for their entire output of music productions, both domestically and worldwide. During his tenure with ITV, he worked on the "Pride Of Britain," a show that recognized the un-sung heroes of the nation. His work at ITV also led to work with TV networks in America, where he paved the way for a number of American artists in the UK, including Michael Bublé and Josh Groban, and UK talent in America such as Il Divo.
In 2005, Nigel Lythgoe and Simon Fuller invited him to be Senior Producer of So You Think You Can Dance. He was one of the three original judges on Season 1 and is now Executive Producer of the show. He flies all over the world Producing and Guest Judging on their versions of the show. Today, So You Think You Can Dance is seen in over 70 countries worldwide, with 17 countries producing their own versions of the show. In total So You Think You Can Dance has been nominated for over 70 Emmys and has won 17!
Thacker was engaged by FOX to be the Consultant Producer on their 2007 and 2008 "New Year's Eve LIVE from New York" shows. In 2008, he was engaged as Executive Producer for the TV phenomenon "American Idol – UK," producing over 15 shows. He also worked on many of the US "American Idol" shows.
In 2009, Thacker created and choreographed the opening and closing sequences for "Idol Gives Back," which that year won a special Emmy Award. He was also instrumental in presenting to the American public the first major TV appearances of Michael Bublé, Katy Perry and Lady Gaga.
Thacker has produced the BAFTA Britannia Awards, in both the UK and the US, with artists including Julia Roberts, Denzel Washington, Reese Witherspoon, Kevin Spacey, Jodie Foster, Ben Affleck, Kate Winslett, and the list goes on! He also Produced and Directed the hugely successful American National Tours of So You Think You Can Dance and produced three acclaimed, top-selling fitness DVDs with the cast from the show.
Thacker's position has enabled him to donate his time to work with many of the world's biggest charities including UNAIDS the only United Nations worldwide HIV/AIDS charity for kids, UNICEF, Save The Children, Comic Relief, The Elton John AIDS Foundation, and in America The Dizzy Feet Foundation, awarding scholarships for underprivileged children and PETA.
Currently, Thacker is Executive Producer/Showrunner on the new CBS primetime dance show "Come Dance With Me" and continues his role as Executive Producer for the 17th season of So You Think You Can Dance.