Ramona L. Cappello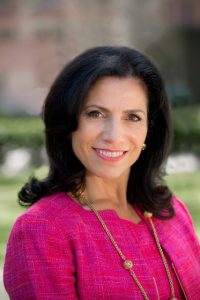 Ramona L. Cappello has held a strong interest in USC Kaufman since the school's inception, but her interest in the arts, and dance specifically, stems from her earliest childhood. Her mother, in particular, was a strong proponent for the arts, herself an accomplished visual artist. Ramona's own passion for dance was strongly encouraged by her family, and were it not for injuries, she might have pursued it professionally.
Ramona holds a bachelor's degree from the USC Marshall School of Business, where she graduated as class valedictorian in 1981. Since 2014, Ramona has served as a USC Trustee. In addition, she is a past president of the USC Alumni Association Board of Governors, on which she served from 2009 to 2015. She has also served on the board of Marshall Partners, where she was a two-year regional chair, and she is a member of USC Associates. Ramona's father, uncle and three brothers all attended USC.
Ramona is Partner and Coach of CEO Coaching International, the leading firm for coaching growth-focused CEOs and entrepreneurs globally. She has a 30-year track record of delivering excellent business results, most recently as Founder and CEO of Sun Harvest Salt, LLC, the exclusive North American distributor of patented all-natural conventional and low-sodium sea salts. An experienced food industry executive, Ramona also founded Corazonas Foods, with a vision to put joy back into the lives of people living with high cholesterol by offering great-tasting, heart-healthy, patented cholesterol-lowering snacks. After losing her father and both grandfathers to heart disease, Ramona committed to building a caring company that took a new approach to addressing and educating Americans about heart disease.
Prior to that, she was a senior executive with Mauna Loa Macadamia Nut Corporation, where she led the company's growth until its sale to Hershey Foods. Additionally, she delivered outstanding results for food and beverage companies including Nestlé, Celestial Seasonings, and Kendall-Jackson Wineries.
In addition, Ramona holds local and international leadership roles with the Young Presidents' Organization (YPO), and serves on the professional boards of Mercury Insurance Group, and Nielsen-Massey Vanillas.