Brenda Dixon-Gottschild delivers the 2023 Commencement speech
May 22, 2023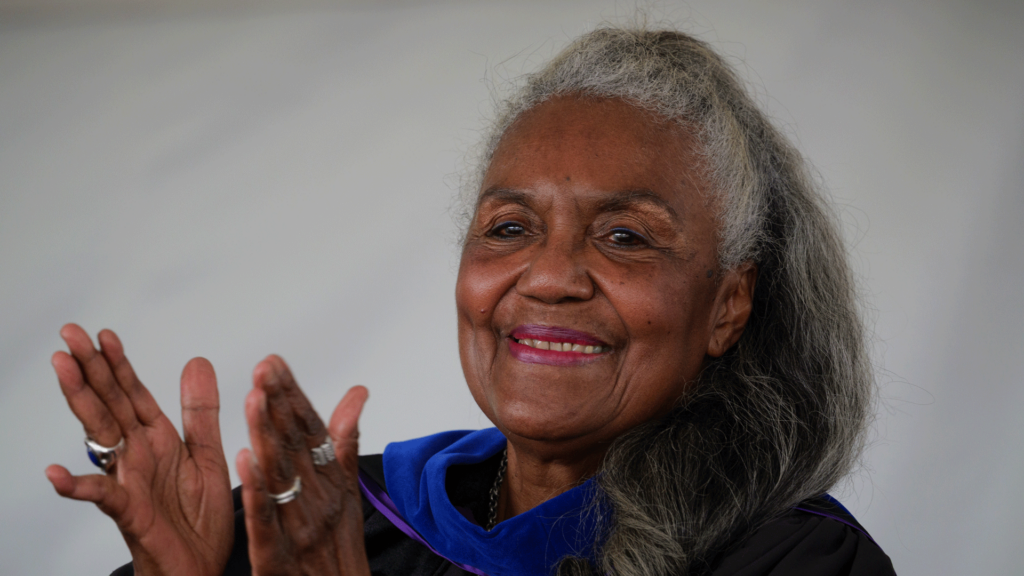 Libation—Ancestors—Familial and/or Aesthetic—On whose shoulders we all stand.
For the Graduates, as I ceremoniously sprinkle the ground in acknowledgment.
I'm delighted to speak to you, the USC Glorya Kaufman School of Dance's 2023 graduating seniors. A commencement ceremony marks an auspicious time of moving on. The next phase of your lives will be indelibly contoured by your time here. You are entering a world of infinite possibilities laced with mind-boggling conflicts, and you each possess both the responsibility and the joy of finding your voice and your place—of being heard and seen, artistically and societally, as an individual, and as part of the human collective.
So, what does a war baby—me: a World War II baby!—have to say to you Gen Z'ers? I've chosen to go way, way back and share with you a teaching from our very distant Ancestor—the sage, poet, and mystic Jelaluddin Rumi—born in year 1207, died 1273:
THE BREEZE AT DAWN HAS SECRETS TO TELL YOU
DON'T GO BACK TO SLEEP
YOU MUST ASK FOR WHAT YOU REALLY WANT
DON'T GO BACK TO SLEEP
PEOPLE ARE GOING BACK AND FORTH
ACROSS THE DOORSILL
WHERE THE TWO WORLDS TOUCH
THE DOOR IS ROUND AND OPEN
DON'T GO BACK TO SLEEP
Like a Biblical text or a sacred proverb, these words point the way to a righteous life. Bear with me while I flesh out some of the meanings that flash like neon lights for me.
The first stanza addresses the magic of the dawn hours, the beginning of each new day as the beginning of new life. Each awakening holds promise, provided we stay awake and mindfully present. Therefore, "don't go back to sleep." And, "you must ask for what you really want." As movers, you speak eloquently through your dancing bodies. Nevertheless, people can't guess your thoughts and needs. So you must also speak up and sometimes even speak out. It's up to you to examine your heart, your gut, your mind, to find out what you really want. No need to rush forward recklessly, but also "don't go back to sleep."
Rumi then speaks of "people going back & forth across the doorsill where the two worlds touch." At dawn, you're still sleepy or maybe awake but fearful of what the world beyond the safety of your bed may hold. where the two worlds touch, is the magic place, the threshold—the limen—between possibility and reality. And you—You, YOU, YOU, YOU—hold the potential to shape the dialog between these two worlds into something fresh and new. To bridge the gap between the worlds of where we were, where we are, and where we hope or dread to go. When worlds touch, doors may open and you hold the keys!
The penultimate line, "the door is round and open," suggests a non-linear understanding of door—it doesn't simply open and close. But there's a circularity, a continuity, between past, present, and future, between dreaming and doing! And this brings me to the powerful West African, AKAN concept of SANKOFA. It means, literally, "go back and fetch what was left behind," meaning that it's alright—no, even more—that it's necessary—to examine and learn from our past, our histories, so that we can fathom, unravel, and use the good that is at risk of being left behind, and avoid the pitfalls of the past, in order to enrich and inform the present , as we move toward making a future that's worth looking forward to! So then don't go back to sleep, dear graduates! You hold the potential to affect and change your world by your unique contribution to the arts, and to society. Can you dig it—Rumi was encouraging us to be woke a thousand years ago! Basically, that's what is meant by "don't go back to sleep"—stay woke!
You must ask yourself, as poet Mary Oliver wrote, "What is it you plan to do with your one wild and precious life?" You've reached this elite stage in your young careers because, already, you've demonstrated your extraordinary ability and resolve. May you continue to expand your understanding of who you are, how you are, and how being you— in dancing and in everything you do—can open pathways beyond what you might have thought you were capable of—pathways for others as well as for yourself.
I don't mean that you become strivers, always looking to be someone else or someplace else. In fact, I'm pointing you in the opposite direction—for you to be so present and mindful of your special gifts—that unforeseen possibilities become manifest and within reach.
According to astronomer and cosmologist Carl Sagan,
THE NITROGEN IN OUR DNA
THE CALCIUM IN OUR TEETH,
THE IRON IN OUR BLOOD,
THE CARBON IN OUR APPLE PIES,
WERE MADE IN THE INTERIORS OF COLLAPSING STARS.
WE ARE MADE OF COLLAPSING STARS!
In other words, you are the eternal universe. You are all star stuff—you're already stars! How cool is that? Remember that, and ride that wave whenever the world tells you something else! In your art and in your lives as citizens of this nation, as global citizens of this planet, don't go back to sleep!
As the revered and legendary Representative John Lewis wrote, "Do not get lost in a sea of despair. Be hopeful, be optimistic. Never, ever be afraid to make some noise and get in good trouble, necessary trouble."
Quoting Maya Angelou: "My wish for you [and this is MY wish, too] is that you continue. Continue to be who you are and how you are, to astonish a mean world with your acts of kindness. Continue to allow humor to lighten the burden of your tender heart."
YES, LORD: LET'S REMEMBER HUMOR, LAUGHTER, JOY, AND LOVE!
Lewis and Angelou are pointing out your responsibility to show up, move on, speak out, and use your beautiful, gifted voice for those whose voices have been repressed, oppressed, and silenced. You are responsible to share your gifts in the service of social justice and equality!
And I leave you with this gem by Rumi.
DANCE WHEN YOU'RE BROKEN OPEN.
DANCE, IF YOU'VE TORN THE BANDAGE OFF.
DANCE IN THE MIDDLE OF THE FIGHTING
DANCE IN YOUR BLOOD.
DANCE, WHEN YOU'RE PERFECTLY FREE.
Thank you, and bless you!