With new scholarship support, Celeste Alleyne puts students center stage
February 17, 2023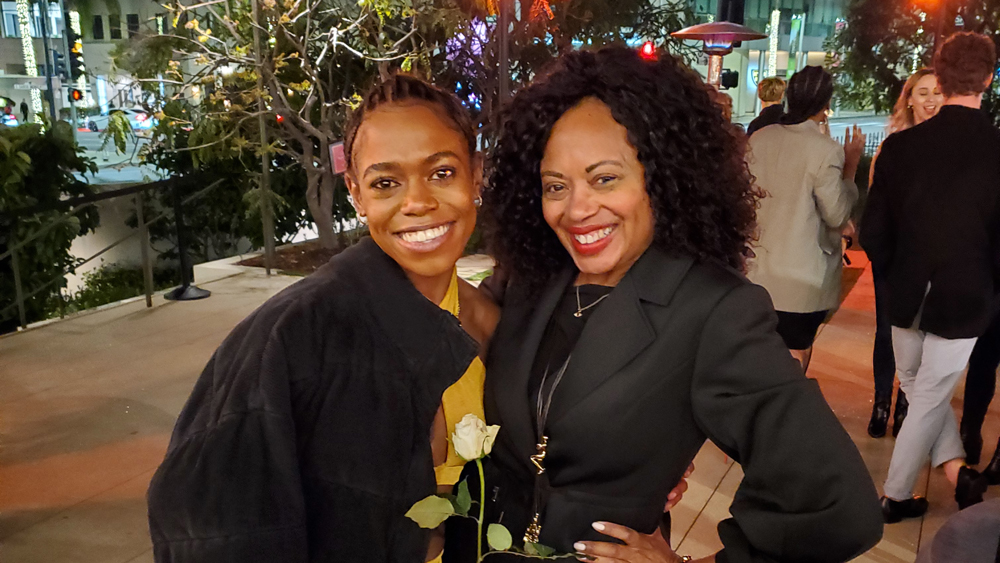 The Microsoft executive and one-time ballet protégé reflects on her own dance journey and mentoring the next generation of artists.
Everyone has a story of what could have been. Celeste Alleyne, a member of the USC Kaufman Board of Councilors, takes hers in stride, even if she feels a pang of regret now and then.
Growing up in the Boston area, Alleyne studied and fell in love with ballet. She wasn't quite the caliber of a Misty Copeland (her words) but found herself rising quickly at one of the country's blueblood institutions, a place of prized talent and reputation. She had the elements for success, too: talent, passion, and a pure love of the arts, which Alleyne credits to her mother, the person who introduced her to Boston mainstays like the ballet and the symphony when she was a child.
"That was kind of unheard of in the Black community in those days, that a mom would do that," Alleyne recalled of their frequent visits to cultural institutions around the city. "But she would take her hard-earned money as a school teacher and make sure that I learned all aspects of life."
Those formative experiences made an impression and eventually led to classes at the nearby Boston Ballet School — training ground of the prestigious Boston Ballet — where Alleyne's thin frame and long, delicate limbs earned her the nickname "spider," a term of endearment coined by Boston Ballet founder Virginia Williams. Soon, Williams was inviting Alleyne to join the company as an apprentice, yet another step toward joining the professional ranks. But life as a dancer with its highs and lows proved to be a bridge too far for Alleyne's father.
"I turned it down," Alleyne said recently of her apprenticeship offer. "My dad was very strict. He'd come from a West Indian background where education is everything. The arts were nice but secondary to what I was supposed to be doing. He wanted me to have a broader education."
Alleyne pivoted and landed at Brown University in Providence, Rhode Island, graduating with honors in Semiotics and later earning a master's degree in Broadcast Communications from the New York Institute of Technology. She climbed the corporate ranks at the senior level for Fortune 500 companies like Nike and Microsoft, brushing arms with the likes of Disney CEO Bob Iger, NBA Hall of Famer Magic Johnson, and Former CEO of Pepsi Indra Nooyi as Microsoft's Director of Executive Engagement and External Talent for the company's global corporate events portfolio.
Still, Alleyne's passion for dance and the arts has never wavered. She earned a dance fellowship in college, which helped cover school expenses, and later served on the Cultural Affairs Commission for the City of Los Angeles under Mayor Antonio Villaraigosa from 2007-2012.
Those ambitions of a once aspiring artist have turned into a winning proposition since Alleyne joined USC Kaufman's Board of Councilors in May 2022. Her purpose, she said, is for students to know that dance is as viable a career choice as any; a scholarship that helps cover tuition for an incoming USC Kaufman freshman was one way to make that clear immediately.
"I'm not someone who goes in with one toe in the water. I jump all the way in," Alleyne said of her scholarship support. "It was tough when I was young because I saw a lot of my friends who were as good as me, or maybe not as good as me, continue to soar in the dance world. I put all my energy into scholarly work. It worked out, but it was still hard to be told as a 17-year-old that I couldn't look at dance as a serious career. I don't want any young person feeling that way."
Alleyne is quick to point out that financial support is about much more than cutting a check. As she learned early on, life is unpredictable and it's the bonds you make along the way that tend to last. In that sense, Alleyne has no regrets.
"I find that it's the relationships in life that carry you," says Alleyne. "You can be Misty Copeland, Gregory Hines—you can be whoever you want to be, but your memories are going to be the people that touched you. I want to be that person."