Choreographer translates Arctic science into dance for local students
April 14, 2017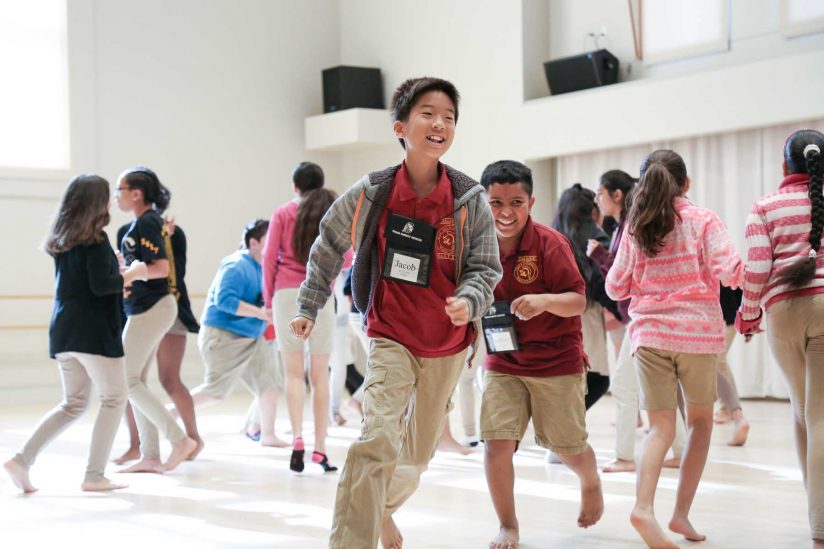 Traveling to the Arctic, Jody Sperling danced on sea ice at a dozen deployments, translating Arctic science concepts into movement.
"The cold wraps around you and fills your lungs making you breathe and move faster to stay warm," the choreographer said. "You dance with extra vigor knowing that this 'stage' is temporary; it will melt in the summer and, due to climate change, may never re-form in the same way or in the same spot again."
The USC Joint Educational Project's Young Scientists Program, which offers science curriculum for USC community elementary schools, recently collaborated with the USC Glorya Kaufman School of Dance to host Sperling, who had traveled to the Arctic, accompanying a scientific mission studying the relationship between the thinning ice sheet and phytoplankton blooms.
As the first choreographer-in-residence aboard the USCG Healy, she said the feeling of dancing on sea ice was extraordinary.
"The dance "floor" is not the ground — it's a layer about 1.2 meters thick of porous ice drifting on top of the ocean," she explained. "The main thing you see is the horizon, separating the white ice from the sky which is white most of the time."
Science at sea
On March 10, Sperling shared her experience with 60 fifth- and sixth-grade students from the 32nd Street USC Performing Arts Magnet during a special presentation at the Glorya Kaufman International Dance Center.
Andrew Carrillo, a science teacher at the 32nd Street School, accompanied his fifth-grade class to watch Sperling's Artic dance performance and to experience what it was like to create a dance about an environment.
"We've read about different environments, watched videos about them and looked at pictures," Carrillo said. "This was the first time we'd ever seen a dance about a place."
He was so intrigued that he later had his students reflect on how they would create a dance about a more familiar place — the beach.
"If I'm at the beach, I would sway my hands back and forth," wrote one student in a journal entry. "I would do a 'shooo' that makes it sound like the ocean. I would make my legs do a plié in first position so it looks like a flower, then I would stretch my whole body vertically to represent a palm tree, then put my arms out to wave like the fronds."
---
By DJ Kast