Cloud Gate Dance Theatre of Taiwan
June 14-14, 2021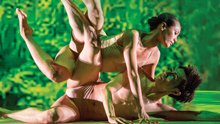 USC Visions and Voices is proud to present Cloud Gate Dance Theatre of Taiwan as part of the Experience L.A. program at The Music Center. Immersed in everything from meditation to martial arts to modern dance, Asia's most renowned contemporary dance company makes its Music Center debut in a stunning production of Rice.
Saturday, January 30, 2016
Dorothy Chandler Pavilion
The Music Center, Los Angeles, CA
This is event is open to USC students only.  Busses depart from USC's UPC campus beginning 6:30 p.m. RSVP and find additional details on the USC Visions and Voices website.
View all events