Cypher Celebration
October 6, 2022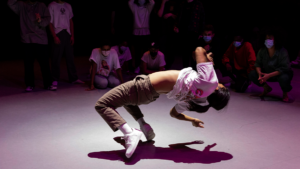 October 6, 2022 | 5:30 & 7:30 p.m.
Glorya Kaufman International Dance Center
KDC 102, Large Performance Studio
849 West 34th Street
Los Angeles, CA
Centering Hip-Hop and Black dance practices at USC Kaufman, Cypher Celebration will highlight the sophistication and creativity of real-time Improvisation/Freestyle in this live performance exchange of movement ideas and forms.
Part interactive freestyle cypher, part performance, this event celebrates the creative process of hybridization and the multiple dance forms and creative modalities with which Kaufman students engage and research. There will be a live DJ, live video projection and mixing, and the audience is free to move and change their vantage point throughout the event.
View all events