THE CYPHER SUMMIT: Hip-Hop Dance Education Conference 2020
February 29, 2020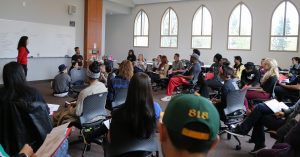 February 29, 2020 | 8:00 a.m. – 6:30 p.m.
Glorya Kaufman International Dance Center
849 West 34th Street
Los Angeles, CA
THE CYPHER SUMMIT is a biennial collective gathering of dance educators, scholars, and practitioners who are invested in preserving and cultivating authentic hip-hop dance cultures in education.
This year's cypher will focus on safe dance practices and injury prevention in hip-hop instruction. Participants will be immersed in a combination of lecture, movement, and collaborative application. Workshops will be led by UK hip-hop fitness expert and street dance practitioner Frederick Folkes, alongside Los Angeles-based specialists.
View all events