Cypher Summit
April 1-2, 2022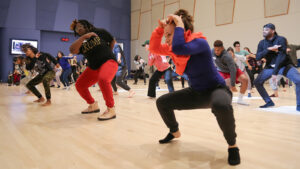 April 1 & 2, 2022 | 8:00 a.m. – 5:00 p.m.
Glorya Kaufman International Dance Center
849 West 34th Street
Los Angeles, CA
The Cypher Summit is a biennial collective gathering of educators, scholars, students and dance practitioners who are invested in preserving and cultivating authentic hip-hop dance cultures in higher education.
This year's cypher will focus on women in hip-hop and partner with Ladies of Hip-Hop – a national, nonprofit organization that provides leadership and artistic opportunities for girls and women in hip-hop culture. It will feature movement and lecture workshops, panel discussions, research, cyphers and performances. All are welcome.
Made possible with a grant from USC Arts in Action.

View all events