Dancing the Archives: Emerging Choreographers and Living History
February 13, 2020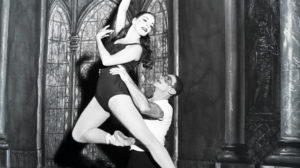 February 13, 2020 | 12:00 p.m.
University of Southern California
Alumni Park, EF Hutton Park and McCarthy Quad
In celebration of the recently debuted USC Dance History Video Archive Project (DHVA), three emerging, Los Angeles-based choreographers will explore materials housed in USC's renowned cultural repositories: The DHVA, ONE Archives, the California Historical Society Collection and the Los Angeles City Archives. The choreographers will draw inspiration from the archive materials as well as the architectural landscapes in and around Doheny Memorial Library to create simultaneous, site-specific dance works to be enjoyed by roving audiences.
Presented by USC Visions and Voices: The Arts and Humanities Initiative. Organized by Patrick Corbin (Dance), Alison D'Amato (Dance), and Tim Stanton (USC Libraries).
View all events