Discover USC Kaufman in NYC
October 7-8, 2017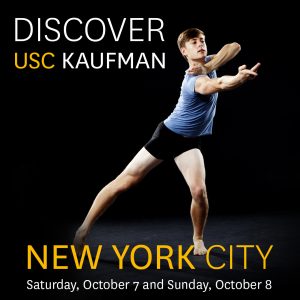 Saturday, October 7 & Sunday, October 8
Join us for Discover USC Kaufman in New York City on Saturday, October 7th or Sunday, October 8th. This full-day program for prospective applicants offers an inside look at USC Kaufman's live audition process. Each morning begins with remarks from Vice Dean and Director Jodie Gates, followed by ballet, contemporary and Forsythe repertory master classes with faculty. Anne Aubert-Santelli, USC Kaufman's Director of Admission and Student Services, will also be available to answer questions about the school's admission process. Students should plan to attend the welcome and all three master classes. Parents are encouraged to attend the welcome and two parent chats.
Please note that this event is for high school seniors, high school juniors, and transfer students only. Also, there will be a wait list once we reach capacity.
All dancers are welcome to attend Sunday's Discover USC to learn more about the university and its admission process. Anne Aubert-Santelli, Director of Admission, will be there to discuss USC Kaufman's portfolio and audition requirements. The event will be held from 3pm to 5pm at the nearby New York Marriott at the Brooklyn Bridge. Please register separately for this special event.
Location
Gelsey Kirkland Studio
29 Jay Street
Brooklyn, NY 11201
Saturday, October 7
8am                                     Check-in
8:30am-9am                     Remarks from Vice Dean & Director Jodie Gates (parents welcome)
9am-10:15am                    Ballet with Jodie Gates
9am-9:30am                     Parent chat with parents of current USC Kaufman students (pending availability)
10:15am-10:30am           Parent chat with Jodie Gates
10:30am-11:45am            Contemporary with Patrick Corbin
12pm-1:15pm                    Forsythe Repertory (Enemy in the Figure) with Thomas McManus
Sunday, October 8
8am                                      Check-in
8:30am-9am                      Remarks from Vice Dean & Director Jodie Gates (parents welcome)
9am-10:15am                     Ballet with Jodie Gates
9am-9:30am                     Parent chat with parents of current USC Kaufman students (pending availability)
10:15am-10:30am           Parent chat with Vice Dean & Director Jodie Gates
10:30am-11:45am            Contemporary with Patrick Corbin
12pm-1:15pm                    Forsythe Repertory (Enemy in the Figure) with Thomas McManus
3pm-5pm                       Discover USC at the New York Marriott at the Brooklyn Bridge with Anne Aubert-Santelli (parents welcome)
View all events