Ephrat Asherie Dance: UNDERSCORED 
October 19, 2023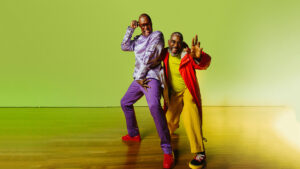 A Visions & Voices Signature Event
Admission is free. Reservations required.
"Asherie's movement phrases—compact bursts of choreography with rapid-fire changes in rhythm and gestural articulation—bubble up and dissipate, quickly paving the way for something new."—New York Times
Don't miss the Los Angeles premiere of Ephrat Asherie Dance's UNDERSCORED, a living archive of five generations of NYC club dancers. The evening-length performance is a multi-generational collaboration of performers ranging in age from 28–80. Celebrating and investigating their connections to the NYC club scene from the 1970s at seminal parties like the Loft and the Paradise Garage through today, UNDERSCORED features EAD ensemble members and three NYC club legends, Archie Burnett, Brahms "Bravo" LaFortune, and Michele Saunders. Audiences join the company in an exhilarating journey through deeply personal histories; rarely seen archival footage; a vast musical landscape including funk, disco, and house; and decades of dancing through the culturally reflective styles of breaking, hip hop, house, vogue, waacking, and hustle.
The event will open with a conversation exploring the street and club dance scene of Los Angeles, and the performance will be followed by a dance party with the artists and audience alike!
The pandemic kept ALL of us from gathering. Whether on or off the dance floor, UNDERSCORED is a reminder of how essential it is to connect to one another.
UNDERSCORED has received lead commissioning and development support by Works and Process, Inc., for its world premiere at the Guggenheim. UNDERSCORED was made possible by the New England Foundation for the Arts' National Dance Project, with lead funding from the Doris Duke Charitable foundation and Mellon Foundation. This project is made possible in part by a grant from the Association of Performing Arts Professionals for a residency at the Jay and Linda Grunin Center, made possible through support from the Andrew W. Mellon Foundation. UNDERSCORED is a National Performance Network (NPN) Creation & Development Fund Project co-commissioned by Works & Process in partnership with ArtPower at UC San Diego, the Momentary and The Yard. The Creation & Development Fund is supported by the Doris Duke Charitable Foundation, the Andrew W. Mellon Foundation, and the National Endowment for the Arts (a federal agency). For more information, visit www.npnweb.org.
View all events