Exploring Black dance: a senior project by Amaria Stern
April 22, 2020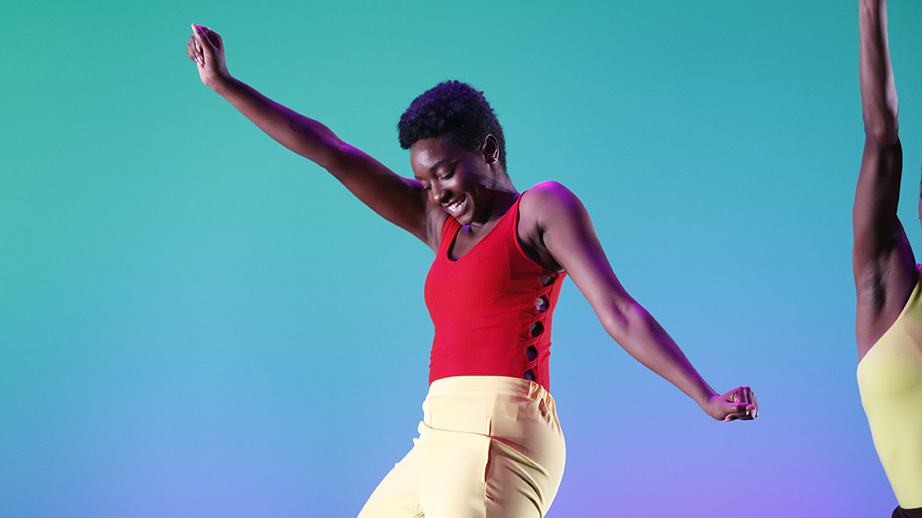 USC Glorya Kaufman School of Dance student Amaria Stern (BFA '20) drew inspiration for her senior project from a longstanding passion. She chose to pursue the spectrum of Black dance as it relates to her studies thus far. Stern explained that the senior project serves as an opportunity for each student to combine their unique areas of study and interests with their dance training from USC Kaufman.
"The purpose of the project is to consolidate all of the information that we've collected over the last four years," Stern said. "We can relate it to our own interests, like what are the things that we created and learned so we can consolidate those into one capstone project."
Amaria's meaning of Black dance
While the term Black dance has many interpretations, Stern offered her personal definition in light of her experiences and senior project.
"Black dance is the rich movement practices that come out of Black communities globally," she said. "Whether that's Africa or Black communities in the United States or in Europe, it's where Black people are creating movement with purpose and intention and for each other."
Stern explained that she developed an interest in ethnography and cultural movement during her time at USC Kaufman. With the topic of Black dance, she wanted to explore the diasporic movement of African dance. Stern also examined how the different styles began to evolve into current dance forms.
"I want to help people understand what all the different forms mean and how to talk about the full spectrum of Black dance," Stern said. "It's not as narrow as people think it is. It's not just entertainment or one style. There are so many styles of Black dance and I want to educate people about Black dance."
Creating the conference
As the culminating point of her project, Stern created a Black dance conference to be hosted at the Lula Washington Dance Theatre in Los Angeles. She planned a series of workshops led by both up-and-coming and established Black dancers. Stern also planned for conference to conclude with an intimate studio performance and discussion.
"I wanted to discuss how the workshops felt on participants' bodies and how they viewed it," Stern said. "I also wanted to discuss how a lot of these styles are portrayed in the media. Also, I wanted the interactive discussion and performance to celebrate and promote the artists that I was asking to perform."
Stern asked a wide range of people to lead workshops at the conference, including USC Kaufman professors, senior classmates Rachel Harris and Jakevis Thomason, as well as BFA alumni.
Adjusting her project due to COVID-19
Since USC's transition to online learning due to COVID-19, Stern had to adjust her conference in response. As social distancing guidelines were implemented and academic buildings closed to the public, she decided to explore a virtual experience for her event. Stern aims to hold different sessions by those slated to present at the conference over Zoom. She also wants to facilitate the concluding discussion virtually.
"Instead of just one event it's going to be different sessions where people present their experiences and styles," Stern said. "We're going to have conversations about how to prioritize Black dance, specifically in a university setting because that's my experience. We'll also discuss how to celebrate and preserve these dances."
Main takeaways
In addition to educating participants on the history and importance of Black dance, Stern hopes to address the difficult topics surrounding the practice.
"A lot of these conversations are hard because they deal with appropriation and even slavery," Stern said. "I'm hoping that people will come away inspired to not shy away from complex conversations. I hope they'll meet people and see the work of up-and-coming artists."
The Class of 2020 Senior Projects are supported in part by The Collaborative Projects Fund and the generosity of The Cheng Family Foundation. Watch Amaria Stern's senior project presentation below:
---
By Brigid Murphy