Anindo Marshall
Lecturer
Afro-Cuban, African Dance, Drumming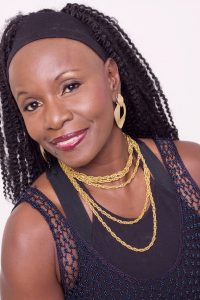 Anindo (Sarah) Marshall began her musical and dance career in her homeland of Kenya as a vocalist, dancer and percussionist. She enjoyed a successful solo career in Europe as a vocalist, signing a recording contract with EMI Spain and becoming known as Kenya's singing sensation. She has performed with Babatunde Olatunji and Mickey Hart of the Grateful Dead, among others.
As a young dance student in Kenya, Marshall met Saundra Barnes, a Dunham dancer teaching Dunham Technique. She studied with Barnes (Ife) and, in 1983, moved to the United States to continue her study of the technique with Katherine Dunham and other Dunham Technique masters including Pearl Reynolds, Archie Savage, Lucille Ellis, Tommy Gomez, Tally Beatty, Vanove Aikens, Theo Jamison, Ronald Marshall and Keith Williams. Her studies also included Haitian, Afro-Cuban, Brazilian and African dance forms as taught in Dunham Technique.
Today Ms. Marshall is a certified Dunham Technique instructor and a member of the Katherine Dunham Certification Board. She continues to teach at schools worldwide: Debbie Allen Dance Academy, Dance Dimensions, Lula Washington Dance Theater, Occidental College, Loyola Marymount University, University of California, Irvine, Dallas Black Dance Theater, Cleo Parker Robinson Dance. As programs director with Dream A World Education, Marshall has conducted arts residencies in the Los Angeles County Unified School District, Hawthorne School District and Wiseburn School District schools.
An accomplished musician, Marshall teaches percussion from Africa and Latin America and has studied with some of the world's finest percussionists including Babatude Olatunji, Mamadi Keita, Mor Thiam, Lamin Dido Camara and Karamba Diabate. Her study of African rhythms compelled her to further her studies of West African dance under the tutelage of  Kimoko Samo (former artistic director of Les Ballet African of Guinea West Africa), Marie Basse and countless others. Marshall also teaches music in Montrose, California where she runs the school choir, band and flag team.