Danté Rose
Lecturer
Hip-Hop, Breaking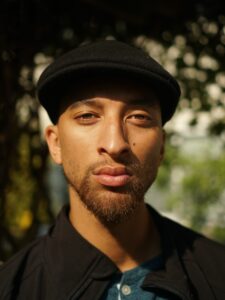 Danté Rose is a dance artist, musician, thespian and educator whose special blend of cross-cultural influences have made him a highly regarded unique movement artist in the United States and abroad. Part of the avant-garde Circle of Fire breaking crew, Rose bears the joy of balancing both traditional and experimental approaches to Breaking, Hip-Hop and House Dance. With over a decade of teaching experience, he has honed a pedagogy that honors the foundation of these forms while trailblazing a space for new movement and community supported individualism.
In 2020 during the height of the pandemic, Rose created a socially-engaged, performance art piece that would earn him a grant with the city of Los Angeles Department of Cultural Affairs. He then used this momentum to launch the interactive art campaign TASTE, a concept album whose narrative intertwined with fictional social media characters and real-world puzzle solving at installations across the greater Los Angeles area. This type of artistic merit is what earned him an invitation into Soulshifters, a world renowned collective of musicians, dancers and visual artists.
An accomplished performer, he has appeared on many stages from the prestigious Oregon Shakespeare Festival in Eugene, Oregon to I.B.E. in the Netherlands. Among his awards are Artist Residency at ODC Theater in San Francisco (as a part of Embodiment Project), honor for artistic contributions to a city (San Francisco) and numerous championship titles.