Nina Flagg
Lecturer
Dancehall, Hip-Hop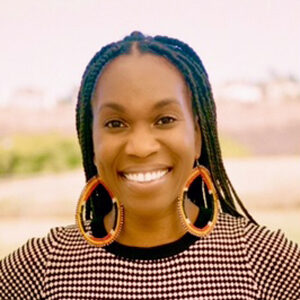 LA native Nina Flagg began studying gymnastics and dance at age three. She would continue to train at the Los Angeles School of Gymnastics (LASG) for 9 years in addition to studying Ballet, Modern, Jazz, Tap, and African Dance. Her dance training began with her mother Karen McDonald and continued with other notable teachers such as Yuri Grigoriev, Stefan Wenta, Ron Brown, Claude Thompson, Paul and Arlene Kennedy, and Nzingha Camara. At age 12, Flagg was introduced to director/choreographer Debbie Allen when she was hired as a young dancer and gymnast for the 63rd Annual Academy Awards.
Flagg went on to attend Los Angeles County High School for the Arts (LACHSA). It was during this period that she excelled under the tutelage of Don Hewitt, KaRon Brown-Lehman, Mary Bender, Rudy Perez, Don Bondi, and Hae-Kyung Lee. After graduating from LACHSA in 1997, Flagg began honing her skills in Hip-Hop dance while obtaining a BA in Sociology with a Specialization in Communications from UCLA.
During her senior year at UCLA, Flagg was invited to join the faculty of the Debbie Allen Dance Academy (DADA) in Culver City, CA. Her relationship with DADA would extend over the next decade as a Contemporary & Hip-Hop/Street Dance faculty member.
After graduating from UCLA, Flagg relocated to Philadelphia to train with Rennie Harris, Artistic Director of the Philadelphia-based Hip-Hop company Rennie Harris Puremovement. She went on to tour with the Puremovement company for five years as a principal dancer. Flagg continued her artistic relationship with Harris and assisted him in setting an original repertory work on the Alvin Ailey American Dance Theater.
In 2007, Flagg began working with renowned dancer/choreographer and mentor Toni Basil. She was hired by Basil as an assistant choreographer for Bette Midler's Las Vegas residency, The Showgirl Must Go On. Flagg continued on as part of Basil's creative team for the 2008 Tina Turner 50th Anniversary Tour.
In 2011, Flagg was again given the opportunity to work with The Alvin Ailey Company when she was invited by Rennie Harris to collaborate on an original Hip-Hop work, entitled Home.
In 2015, Flagg reunited with Bette Midler's creative team for The Divine Intervention Tour as Assistant Choreographer and Private Dance Coach to Ms. Midler. This was followed by a return to The Alvin Ailey Company as Rehearsal Director for Rennie Harris' third Hip-Hop creation with the company, entitled Exodus.
In 2016, Flagg joined the Connecticut College Dance Department as visiting faculty to pilot the launch of their Hip-Hop Dance Studies program. Soon after, she returned to Los Angeles where she joined the CalArts School of Dance faculty.
In Summer of 2018, Flagg reunited with The Alvin Ailey Company as Rehearsal Director for Rennie Harris' Lazarus, the first hour-long, evening-length work in the company's history. In the Fall, she transitioned to full-time faculty at the CalArts School of Dance. She expanded her teaching role in addition to presenting original repertory works for the school's partnership with REDCAT Theatre. Flagg had the honor of traveling to India on behalf of the CalArts School of Dance to expand the school's international presence and develop exchange opportunities with dance artists in Mumbai, New Delhi, Bengaluru and Kolkata.
In May of 2021, she completed her fifth and final year as CalArts dance faculty where she created Technique, Composition and Repertory courses in Hip-Hop and Contemporary Dance.
Flagg has been on faculty at UCLA (World Arts & Culture Department), CalArts School of Dance, and Connecticut College and served as a guest artist and choreographer for the dance departments of Loyola Marymount University (LMU), University of Virginia (Charlottesville), and Bennington College (Vermont). She has worked with such artists as Prince, Tina Turner, Bette Midler, Stevie Wonder, Beyoncé, Will Smith, Chris Brown, Solange, and J Balvin. Her choreography has been featured on The Grammy Awards, The TV Land Awards, The 2015 Special Olympics Opening Ceremonies (ABC/ESPN), Gabby's Dollhouse Dance DVD (Dreamworks/NBC), and Flight Path Dance Company. Her television appearances include The Academy Awards, The Today Show, MTV's TRL, and Good Morning America. In Summer of 2021, Flagg appeared in the documentary film AILEY which was released in theaters nationwide after its premiere at Sundance Film Festival.
Currently, Flagg is continuing her practice as a choreographer and pedagogue, as well as a guest artist for organizations such as LA Dance Project, CLI Studios, and Everybody Dance LA!. She will join the USC Glorya Kaufman School of Dance in 2023, teaching courses in Dancehall and Hip-Hop Technique. As a BIPOC artist and educator, Flagg remains passionate about creating curricular strategies for equitable, multi-generational engagement in dance education and live performance.