Toyin Sogunro
Artist in Residence
Hip-Hop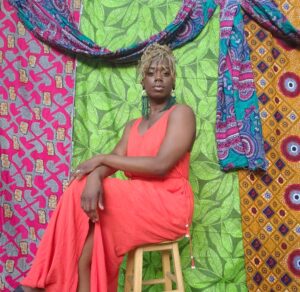 Born and raised in the D.M.V. (D.C., Maryland, Virginia) area, Oluwatoyin Sogunro, better known as Toyin, is a professional dancer and educator. She is a cultural ambassador of Black street dance and club dance forms. Sogunro spends her time traveling extensively to different urban arts communities globally. Through her travels, she broadens her perspective and understanding in all sorts of dance forms, and shares her own talents and teachings in these spaces. Most, if not all, of her work revolves around preserving the authenticity of Black culture through street and club dance.
As an artistic director of 'Urban Artistry' dance company for 10 years, Sogunro gained experience teaching historical techniques and applications. She mentored students to become a preservationist and innovator of urban arts. With the company, she also gained the opportunity to perform for the grand opening dedication ceremony for the Smithsonian National Museum of African American History and Culture in Washington, D.C.
The other half of her dance life exists in competitive spaces. In 2011, Sogunro and her partner LaTasha Barnes made history by being the first American team and the first female team to take home first place in the world championship for House Dance in the Juste Debout competition. Since then, she has gained respect as one of the best "House dancers" of this generation. She is perhaps most well-known for performing, winning and judging some of the top dance competitions in the world, including Juste Debout, Summer Dance Forever and I Love This Dance to name a few.
Currently, Sogunro finds herself putting her energy into higher and new realms. She is creating and directing a new collective called Nefer Global Movement. It was recently mentioned in Red Bull's magazine, The Red Bulletin. Nefer is a group that consists of active influential women in the hip-hop dance scene. The collective's goal is to come together to celebrate dance, culture and empower sisterhood. While managing this collective, she has shared her artistry on stages across the country, including touring as one of Omarion's dancers on the Millenium Tour 2021.
Using her talent and message, she continues to inspire fellow artists and arts enthusiasts. From her knowledge and with over a decade of experiences in different mediums as a working Black dance artist, she has plenty to give. Sogunro strives to be a true pillar of artistic excellence and uses art as a tool to propel personal empowerment and communal engagement.