Alumnus Jake Tribus named 2022 Princess Grace Award Winner
August 26, 2022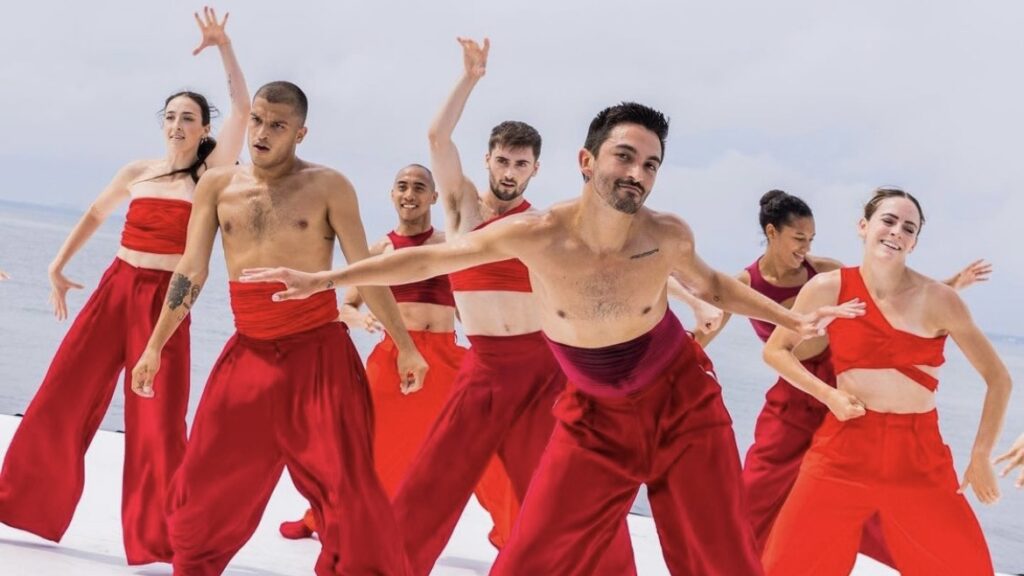 The dance industry is booming with creative energy as artists eagerly dive back into work after pandemic related restrictions lessen. Jake Tribus, a Class of 2020 alum, moved to New York City after graduation and has fully embraced its lively dance industry. Through his many artistic projects, Tribus has garnered recognition as an extraordinary dancer in the contemporary scene. Read on to explore what he has been up to since his time at USC Kaufman.
2022 Princess Grace Award Winner
The Princess Grace Foundation named Tribus as one of the 2022 award winners in the dance category. Founded by Prince Rainier III of Monaco in 1982, the Princess Grace Foundation supports and elevates extraordinary emerging artists in theater, dance and film. Every year they award a select group of artists with grants, and these recipients then have lifelong opportunities to apply for further funding through the foundation.
Every arts organization can nominate one artist per year. Once nominated, an artist has to pass two rounds of an application before receiving an award. This was Tribus' third nomination; USC Kaufman nominated him twice while he was a student. Tribus said he was blown away when Gibney Dance Company, of which he is a member, nominated him this year, giving him a third shot at the award. As a winner, Tribus joins a community of distinguished artists.
"I still feel like I'm on cloud 9. I remember getting the call from Diana, who runs awards," Tribus said. "It was the last 15 minutes of my lunch break in rehearsal with Gibney when she called me. I was in shock on the phone; crying but also trying to listen to her talk about the next steps while also trying to pack up my food. It was a chaotic but emotionally high moment."
Tribus joins 17 other 2022 Princess Grace Award winners and 6 honoraria. According to Tribus, this incredible group of artists includes some of his friends, making this shared experience even more special.
"It's such an honor. It feels like a huge affirmation of years of hard work and sacrifice," Tribus said. "Now I'm in this community of people and I'm curious to see what opportunities it may bring. I'm excited to network and meet people, past winners, people on the board, big names in the dance scene."
Gibney Dance Company
Establishing a new company model
Tribus signed with Gibney in March 2020 and is now beginning his third season as a member. When he joined, the company had just received a generous grant allowing it to expand from six to twelve dancers. According to Tribus, the company has spent the past two years trying to understand how their new model fits into the New York contemporary dance scene.
Like every dance company, Gibney faced their own challenges throughout the pandemic. When in person performances began again, many theaters had to honor previously signed contracts that had been pushed back. Tribus explained that Gibney was new, therefore didn't have anything previously signed, and had to wait for theaters to have open spaces during which to host them.
"My first season with the company was all process, meaning we didn't perform," Tribus said. "Our first performance was in November 2021 at the Joyce theater, which was a gift. It was the most incredible experience, and I would say it really put the company on the New York contemporary dance scene map."
Since then, Gibney produced two more shows: a company-created show in March 2022, and their Up Close series at New York Live Arts in June 2022.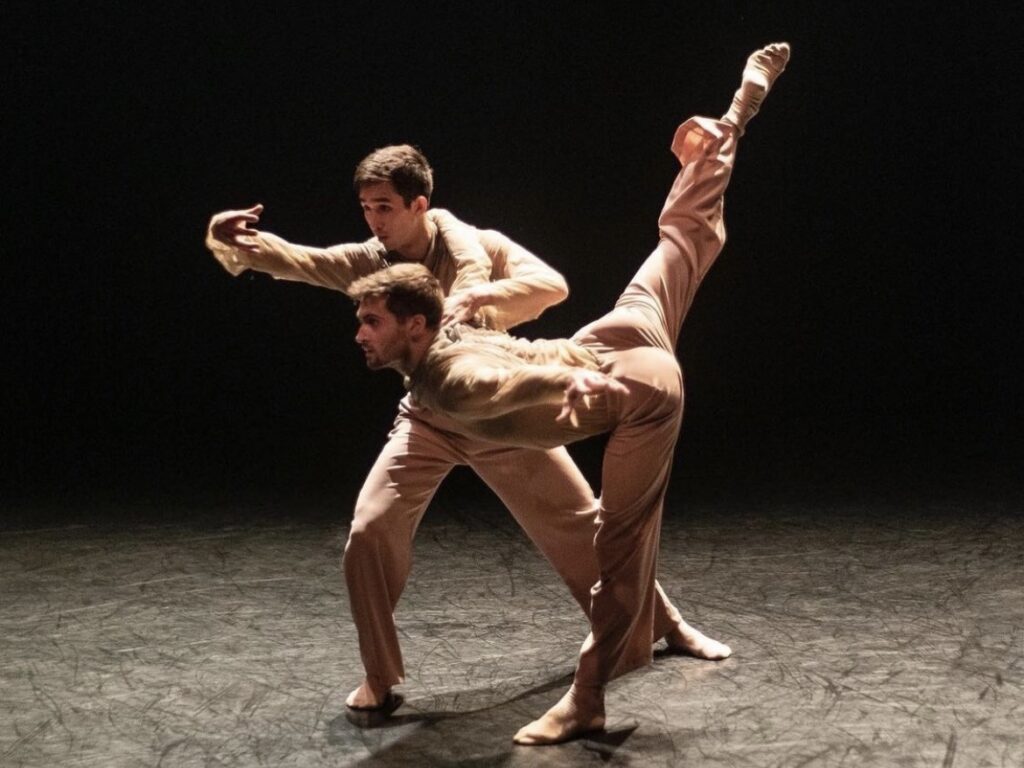 Tribus' choreographic debut
Gibney's company-created show allowed the dancers to choreograph pieces on each other. This show marked Tribus' choreographic debut.
"It was really unique in the sense that we really had creative control over the show and the direction," Tribus said. "Artistically, we didn't have any limitations as to what we could create."
Tribus choreographed a duet on company members Jesse Obremski and Connie Shiau entitled A Chain of Rapidly Occurring Reactions. This piece explored the fight or flight response and the physical reactions we have from real versus perceived threats, Tribus explained. It delved into what this balance of threats does to us mentally and physically, and how the body begins to break down under stress.
"I was inspired by a very uncomfortable conversation I had and the white fragility I experienced," Tribus said. "My heart was quickening and my palms were sweating. I later thought, how interesting that my body is reacting this way when I'm simply having a conversation. I was interested in expanding upon this thought via movement."
Converge2Emerge
According to Tribus, Gibney encourages its members to create, run and do programming through a philanthropic fellowship within its umbrella. Tribus' organization, called Converge2Emerge, uplifts emerging choreographers in New York City through financial resources and mentorship.
"I was inspired by, upon graduation, seeing how the pandemic affected the amount of jobs available in the industry," Tribus said. I wanted to do my part in alleviating some of that stress however I could, especially having the resources backed by Gibney to do so."
Tribus explained that Gibney members get an annual budget from the Bay and Paul Foundation to fund their fellowship projects. With these resources, Tribus has been able to do two sets of programming through his organization. In the fall of 2021, Converge2Emerge provided choreographic mentorship and career development workshops to selected recipient Rachel Harris. With these resources, Harris created a dance film. This past June, Converge2Emerge supported Alyssa Myers' choreographic vision. Using Gibney's studio space, Myers produced an interactive, audience-controls-the-choreography experience.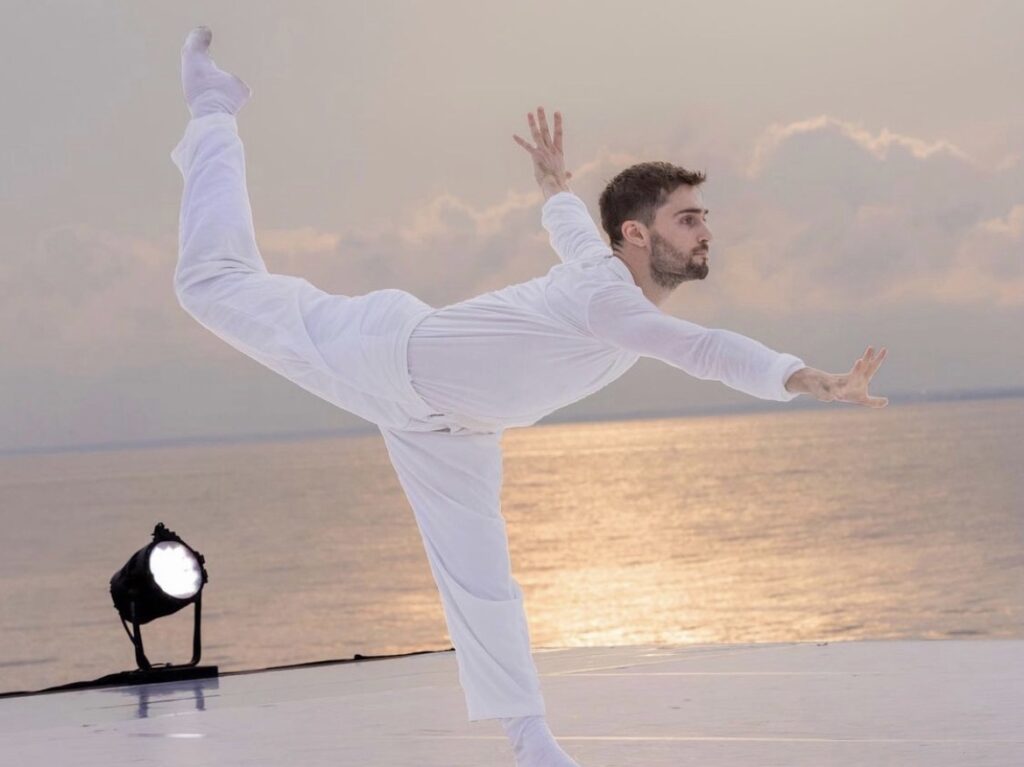 Checking off a bucket list item at Fire Island Dance Festival
Every summer, Dancers Responding to Aids (DRA) hosts the Fire Island Dance Festival in New York City. This weekend-long charitable event takes place in Fire Island Pines on an outdoor stage overlooking the Great South Bay. This year, the festival presented nine pieces, including four world premieres. Tribus performed in two pieces: a solo choreographed by Micaela Taylor and a new work by Akira Uchida.
"Performing at the Fire Island Dance Festival has been a bucket list item of mine for a long time because of what it stands for, what it raises money for (AIDS research and care), and Fire Island Pines being an LGBTQIA+ safe haven," Tribus said.
In June, Uchida reached out to Tribus about performing in the new work he was creating for the festival. However, it wasn't until the last minute that Tribus found out he would be performing a solo as well. According to Tribus, on Thursday, the day before the festival began, one of the directors contacted him. She told him two dancers dropped out due to unforeseen circumstances and asked if he had anything to perform last minute. So, Tribus rehearsed an old solo he had from part of a group piece with Gibney.
"So it went from one day wishing I could be part of this festival and perform on that stage to now doing not just one piece but also a solo by myself," Tribus said. "I had many tearful moments of joy and disbelief that weekend, but it was so beautiful and such an amazing experience. So much gratitude and love for dance and art."
Coming next
Tribus has many more exciting things coming up. Gibney Dance Company will be touring for much of this coming season, starting in September 2022. In January 2023, Gibney's tour will bring them to LA, where Tribus will perform at Bovard Auditorium on USC's campus, presented by Visions & Voices.
"It will be a funny, ironic, heart touching, special moment for me and fellow Kaufman alum Jordan Powell, who just joined Gibney," Tribus said. "It's like we're back with our family at USC."
Apart from Gibney, Tribus will also be performing in a dance film created by James Whiteside, a principal dancer with American Ballet Theatre. The film was commissioned by and will appear on ALL ARTS, an online artistic and cultural hub presented by PBS. Whiteside hosted this summer's Fire Island Dance Festival, where he met Tribus for the first time. Tribus will dance with Lloyd Knight, principal dancer with the Martha Graham Company, in the film.
According to Tribus, the film will feature a gay love story between two men meeting on Fire Island. "It feels special that James would trust me to be a part of that and to cast me alongside someone like Lloyd," Tribus said.
To keep up with Tribus and his work, check out his website or follow him on Instagram.
---
By Hannah Doerr