Make Space: a new community for Black dancers and artists
December 16, 2020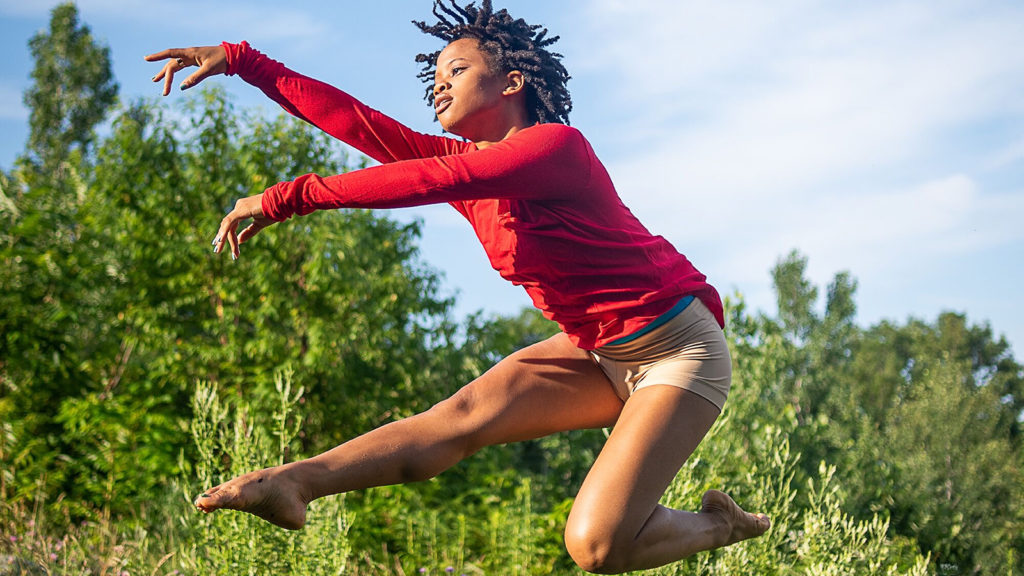 This past summer, Rachel Harris (BFA '20), a dancer with Parsons Dance in New York City, felt compelled to create a welcoming space for Black dancers and artists. Working with her sister Jacquelin, Harris established Make Space. This community would soon provide workshops as an outlet for dancers seeking unity and creativity in a time of stress and isolation.
Creating the first Make Space event
For Make Space to come to life, Harris and her sister collaborated with a variety of Black artists, including USC Kaufman alumni Amaria Stern (BFA '20) and Jakevis Thomason (BFA '20). The first workshop took place over a weekend in June. Make Space hosted nine artists in eight classes total, raising funds to support Black Lives Matter and the Black Trans Travel Fund among other organizations, according to Harris.
"Our mission is to make space for Black and artists of color. To have a place where they can explore, share and expand upon their love for the arts," Harris said. "For the weekend of workshop classes, we brought in an array of faculty, some fellow USC alumni and some childhood friends of mine."
January Jam Session
After the success of their first event, Make Space will be hosting another event in the new year. Dubbed the January Jam Session, this workshop will offer eight hours of class over two days. A new installment leading up to the event will be Artist Talk Tuesdays. Once a week, a Make Space faculty member will interview a guest artist over Instagram Live as a way to keep their community engaged between events. Make Space posted their first Artist Talk Tuesday with dancer Chalvar Monteiro of Alvin Ailey American Dance Theater on Dec. 8. Harris also plans to provide a space for conversation between attendees and artists during the January Jam Session.
"We're instituting an artist talk segment within the lunch break where you can come and talk to the faculty," she said. "It will be a very casual conversation, but also a time to cultivate relationships between the attendees and the teachers themselves. I felt like that was missing in the first event, the actual interaction beyond just a 5-6-7-8."
The future of Make Space
Harris foresees bringing representation to dancers of color and especially for those who come from the South. Harris hails from Charlotte, North Carolina. She explained that growing up it was somewhat rare to see people pursue dance and other creative routes professionally. Harris hopes to make this path visible to all aspiring Southern artists.
"I think Make Space is a start to an initiative that could possibly be an all Black dance convention with an all Black faculty. I don't know if that has been seen before on a large scale," she said. "My hope is that we could travel and do these workshops. Go to the Southeast and maybe one day throughout the country and even globally…It would be a great space to cultivate wellness in communities of color."
---
By Brigid Murphy