Q&A with Sarah Haggerty
November 15, 2017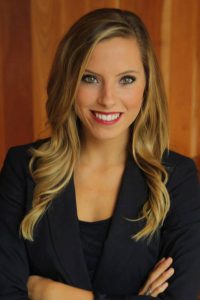 Sarah Haggerty joins USC Kaufman as Associate Director of Individual Giving. We spoke with her a little bit about joining our team, and her role as a part of the USC Kaufman family.
Where were you before coming to USC Kaufman? What is your own involvement with dance/the arts?
SH: I served on the Advancement team of The Music Center, where I helped manage their lead dance support organization, Center Dance Arts. As for my own involvement in the arts, I grew up in New Orleans, training in various styles of dance. I later moved to Gainesville, FL, where I received my BFA in Dance Performance & Choreography from the University of Florida. Go Gators!
What is your position here at USC Kaufman, and what does it entail?
SH: I am the Associate Director of Individual Giving, working alongside Patrick Morrow in the Advancement department at Kaufman. My role is to help secure necessary resources so that Kaufman may thrive for many years to come. What Dean Cutietta and Vice Dean Gates have achieved in a few years' time is remarkable and unlike any other college dance program out there. Just think where we'll be in the near future if we can grow our community of support and build on our incredible beginnings!
What are you looking forward to/already enjoying as a part of our USC Kaufman family?
SH: Kaufman is such a special place for artists. Every morning, I walk into the building and can't help but feel inspired by the space, students, and overall energy of the school. I'm honored to be surrounded by such talent and look forward to working more collaboratively with my colleagues.
Working in advancement, what are your goals for the near future and the distant future?
SH: Every gift, no matter the amount, makes an impact on our future. That being said, I'd love to increase membership in our Dean's Circle, which is our premier annual giving society–it provides vital support for the school and offers exciting member courtesies. I also hope to establish a "Friends of Kaufman" support base by the beginning of 2018, which will feature a tiered giving system, ranging from $1-$999. And, perhaps most importantly, growing the amount of support towards our General Scholarship Fund is a priority of mine during this academic year.
What do you want to bring to USC Kaufman and individual giving?
SH: I want to help our current and prospective donors fulfill their own aspirations–whether that be supporting our fall and spring performances through our Student Productions Fund or investing in the future generations of dance leaders through our General Scholarship Fund. As a former dance major, I have a deep sense of pride and appreciation for The New Movement at USC Kaufman, and I want this to translate through my work in individual giving.
---
By Celine Kiner