Robert Cutietta: 20 years of visionary excellence at USC
August 20, 2021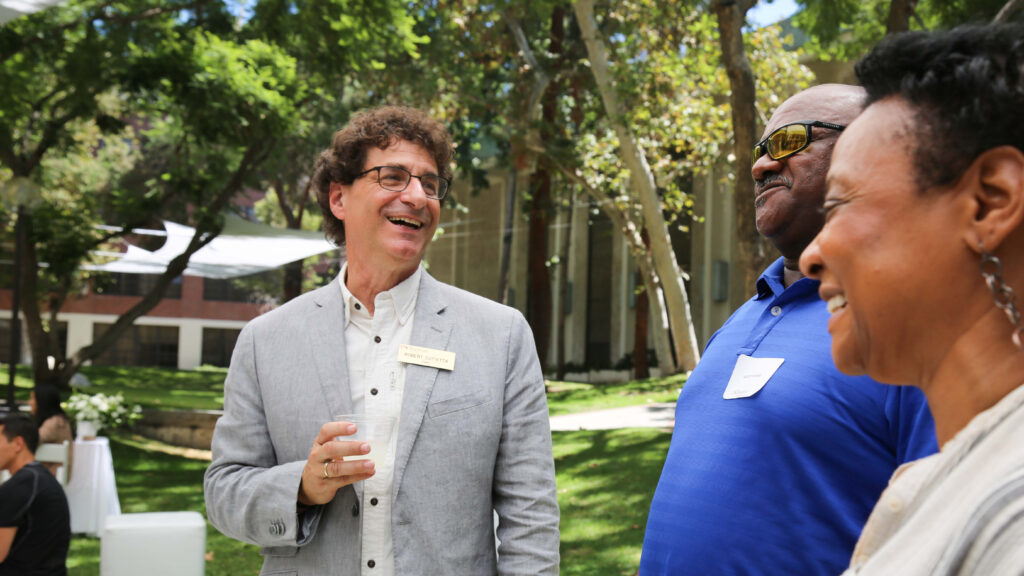 Over the past two decades, USC Thornton School of Music Dean Robert Cutietta has led an inventive reimagining of arts education. As he gets ready to step down as dean at the end of the 2021-22 academic year, Cutietta is quick to point out that the major changes happening during his watch have been far from a solo effort. Faculty members and administrators sharing his vision made it possible to push groundbreaking programs forward.
That, and his belief in a favorite quote he discovered at Disneyland. "If you go to the train station that's behind The Haunted Mansion, you can hear Morse code coming from the station," Cutietta says. "The Morse code is repeating a phrase from Walt Disney's speech when Disneyland opened. Disney said: "Disneyland will never be completed. It will continue to grow as long as there is imagination left in the world."
"I love that quote," said Cutietta. "I live by that quote. And I've tried to use that philosophy for the school. We should always be in a state of change, adapting to the times, adapting to current imagination."
Philosophy into action
Over the past 20 years, Cutietta has put that philosophy into action. He restructured the Thornton School of Music into three divisions – Classical Performance and Composition; Contemporary Music; Research and Scholarly Studies – operating under the tagline "Three Divisions: One Extraordinary School."
Beyond this accomplishment, Cutietta has established his place in USC history by being the major force securing the gift that founded the USC Glorya Kaufman School of Dance in 2012. In addition to his deanship at USC Thornton, he has been dean of USC Kaufman since it opened its doors in 2015. He is stepping down from that position in June 2022 as well.
Cutietta had long felt that the celebrated arts schools at USC were missing an important partner in dance. With the support of Glorya Kaufman, he worked collaboratively with the high-quality, professional USC Kaufman faculty and staff to build the innovative program that now offers the professional degree in dance (BFA), four dance minors, a joint degree in Musical Theater with the School of Dramatic Arts and the Thornton School of Music, and non-major courses that serve thousands of USC students each year.
Future plans
International travel will be on Cutietta's calendar for the immediate future. Starting in July 2022, he will be on a two-year sabbatical from USC. Although he's excited about the possibility of teaching courses at USC in the future (before becoming dean, he taught graduate courses on research design in music, learning theories in music and psychology of music), he has the possibility of spending six months in Europe doing research on changes taking place in music education in response to the pandemic and social unrest there.
Additionally, he will share what he has learned in his years as dean by being a consultant for several organizations. These include the international organization, MusiQuE, that does evaluations and accreditations of music schools all over the world. He recently led a review of a conservatory in Bangkok, Thailand. "I would love to do several of those a year," he says. "It is very rewarding to help other music schools achieve their goals and dreams, and instructive for me to see how other schools deal with the many issues involved with teaching young musicians."
Back to music and writing
And he'd like to get back to playing music and writing. Both were necessarily neglected while he was dean. Although he majored in classical guitar, his instrument of choice is electric bass guitar. He's been playing since he was a 12-year-old in Cleveland. In fact, he was regularly playing five gigs a week in bars before he was old enough to buy a drink.
As for writing, during his teaching career, he has published five books and more than 50 journal articles. Two of those books, Raising Musical Kids and Who Knew? Answers to Questions About Classical Music You Never Thought to Ask, both aimed at general audiences, were written while he was dean.
For his next project, he's started work on a new book, a guide for people who are going into arts leadership. He'll use his experiences at USC as examples.
"We really created the foundation for the future of arts education here," he sums up. "We've done here what people are saying we should have been doing all along. I have worked to leave the schools on an upward trajectory for the next deans. I can't wait to watch how Thornton and Kaufman will continue to lead the profession in the future."
---
Original Article by Allison Engel and Diane Krieger; Edited by Cecile Oreste