Senior international students on choosing USC Kaufman
May 6, 2019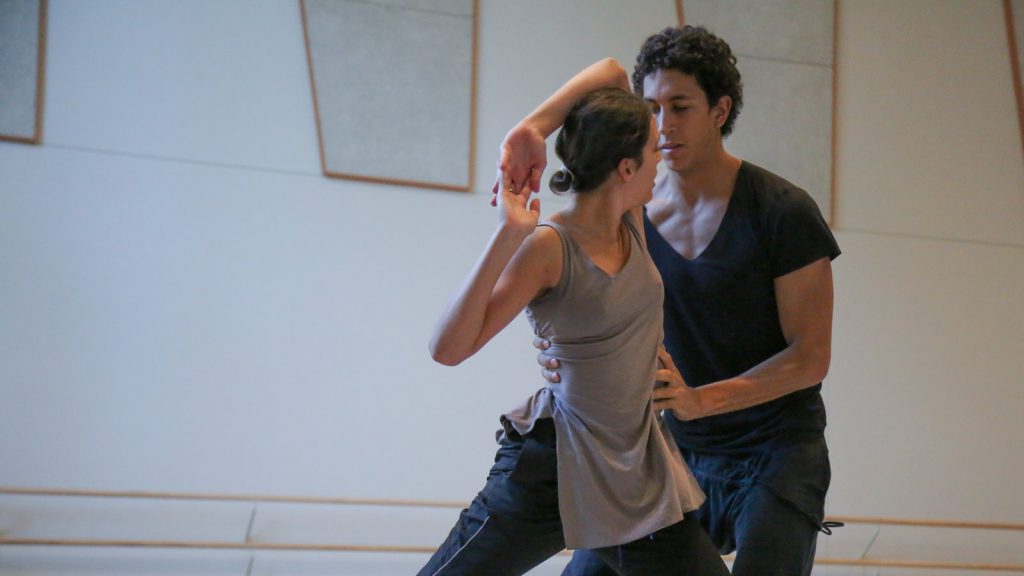 As USC Kaufman's Class of 2019 prepares for this week's commencement, two international students offer advice for those considering USC Kaufman. Though the distance may be great, these graduating seniors explain how they have found their niche within the larger university.
Alvaro Montelongo is from Guadalajara, Mexico and has been dancing since he was eight years old. Before he came to USC, he trained in classical ballet at Academia de Danza Doris Topete, Fomento Artístico Cordobés. He then trained at the Sarasota Cuban Ballet School, as well as at The Ailey School.
Jessica Muszynski grew up in Richmond B.C., Canada and lived there for 14 years before moving to Calgary, Alberta. Before coming to USC Kaufman, she trained in ballet in addition to exploring other dance styles, such as hip-hop and contemporary.
Why America?
AM: I came to dance in the U.S. because I got a scholarship to train at the Sarasota Cuban Ballet School, and I knew I would get a quality dance education there. Carefully crafted and rigorous programs in the U.S. allow dancers to develop a strong technique to be at the level of the companies they want to join. Additionally, most of the companies I wanted to join were located in the U.S. Most of the dancers that they hired also had trained in America, so I wanted to interact with and be near them for potential employment. In the U.S., there is a vast pool of dance job opportunities.
JM: I never thought I would be studying in the U.S. I feel as though the journey happened to me, rather than the other way around. Honestly, it was a series of divine happenstances that brought me to the school.
Why USC?
AM: I chose to apply to USC Kaufman because I knew I would receive rigorous training in ballet, contemporary and hip-hop, as well as choreography and improvisation. Furthermore, I would be able to dance ballets created by choreographers I admired. I could learn from embodying their creations. Although dance was my central focus  growing up, I was also interested in other areas of study, such as business.
At USC, I would be able to take entrepreneurship, marketing and accounting classes to further develop my business skills. I want to be an executive director in the future, and each of these skills can help me with that. Additionally, I chose USC because it offers nearly 200 majors. I would be able to collaborate with students from endless other disciplines to further my research of dance in relationship to other mediums.
JM: I chose USC Kaufman first of all because I loved the idea of taking a leap of faith. Being in the first class, we had no idea what we were getting ourselves into. If I knew then what I know now, I would say that I chose USC because of the diversity of styles, the rigor of the program, the amazing faculty and staff that truly care about us (not just as dancers, but as people) and the curiosity that I have been encouraged to curate within the craft.
How have you grown personally and professionally during your time at USC Kaufman?
AM: Wow, this question would take 10 pages to answer. But recently I have noticed that I am more comfortable being myself in the studio. Before I came to Kaufman I always felt like I had to adhere to the person in front of the room's standard of behavior. Now I feel like I can be myself and not feel like I am letting anybody down or that I am disrespecting someone. I, in fact, feel like I can connect better with the person in the front of the room.
JM: Well, I could truly write a book about my time at Kaufman and my personal growth. This past semester, however, I have been thinking a lot about passion. How can it be sustained? And I figure it all comes down my perspective on passion.
In the past, I felt as though passion for dance was a culmination of how much I was willing to suffer for it, or even how much I was willing to suffer for it compared to my peers. I found that I could not disregard my mental and physical health for the sake of dance. I found that my idea of passion/love for dance was twisted and unsustainable. But I discovered that I have a whole life to live and so I have to figure out a new way to view loving dance. The genuine intrigue and joy begins now, as my romanticized ideas of dance fade.
Pro tips
AM: Don't get discouraged by the seemingly big amount of information that you are required to turn in. It is all possible. Just take it one step at a time. If you get caught up in one thing, call and ask for assistance. Universities in America are very helpful with admission questions.
JM: Advice I would give is do your SAT in the summer before Grade 12. Do not do it alone; ask your friends, your mentors about different schools they recommend. Reach out to students who are already studying in the school to see if the program piques your interest.