Spring Student Works
April 27-28, 2022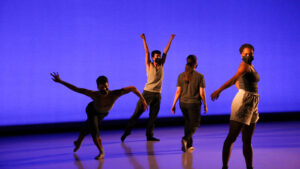 April 27 & 28, 2022 | 7:30 p.m.
USC Bing Theatre
3400 Watt Way
Los Angeles, CA
On Wednesday, April 27, BFA students will present a site-specific choreographic show, inviting audience members to move throughout the theater. Thirty attendees will be admitted in the space at each of the following entrance times: 7:30 p.m., 8:00 p.m. and 8:30 p.m.
On Thursday, April 28, USC Kaufman BFA students will perform original choreography by members of the Class of 2022 and the Class of 2023. Audience members will be seated in the theater for the hour-long show.
View all events