Student Blog: At home in the Los Angeles Maymester
June 16, 2018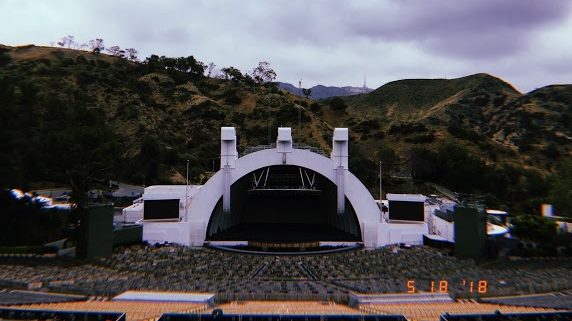 By Dylan Balka
In our first LA Maymester lecture with professor Patrick Corbin, we were asked to make a sense of what dance provides to the county of Los Angeles, and how it influences people beyond its borders. We learned that the foundation of modern dance began in Southern California, with the debut of the Denishawn School in MacArthur Park, which gave way to many greats such as Martha Graham and Jack Cole. It provided us a reminder of the magnitude of creating a new school such as the Glorya Kaufman School of Dance, where a theme of reinvention follows suit just as our dancing ancestors had hoped to create–and there was a plethora of information to follow in the coming weeks.
Early beginnings: Denishawn history
In our first week, we had the opportunity to tour the Hollywood Bowl, the Los Angeles County Museum of Art (LACMA), take class at the Sweat Spot, and to see the former location of the Westlake School for Girls and The Denishawn School in MacArthur Park. In the grandeur of the Denishawn history and the Hollywood Bowl, I found their fascination with ancient and foreign cultures in architecture and aesthetics to be a part of an upper class that was grappling with a lack of history. As Los Angeles remained relatively untouched in its existence of less than a hundred years at the time of the creation of these institutions, it seemed as if our early residents wanted to reimagine the history these institutions sit upon to fit their own tastes.
Accessibility then and now
The second week of our Maymester brought us to the California African American Museum, and on private tours of The Music Center's Walt Disney Concert Hall and The Dorothy Chandler Pavilion, and the Broad Museum afterwards. We were able to take class and view rehearsals at Lula Washington Dance Theater, and watch rehearsal at LA Dance Project as they worked with Shannon Gillen of Vim Vigor Dance Company as well. This week in particular made me consider accessibility of spaces to different communities, and how a portrayed opulence can often create a sense of being a fortress. As diversity and inclusion have become hot topics today, it is fascinating to talk to organizational leaders in these spaces on how they aim to create something for their immediate community outside their doors rather than the few wealthy pockets of the county. It is certainly on their minds, and big shifts in approach to inviting audiences into their spaces are in store. It makes me incredibly excited to see new artistic voices in their spaces, and how these directors will lead us into a new and more open way of appreciating dance and visual art, removing the pedastal that the western tradition sits upon, and giving way to a true celebration of culture, as Los Angeles is indeed the most culturally diverse county in all of the United States.
Performing progress
In our third week of exploration, we found ourselves on a tour of Sony Pictures Studios and The Wallis Annenberg Center for the Performing Arts where we were able to watch BodyTraffic perform, and also take a minute to watch some televised dance in the media library at the Paley Center for Media in Beverly Hills. This week attests to the cultural gravity Los Angeles has on the United States as it is established as a hub for media and communications. From Singin' in the Rain and the Wizard of Oz with MGM Studios to Sony's production of Childish Gambino's "This is America" music video, the conversation really does start at home in our county.