Student Blog: Counterpoint, community, and Forsythe
September 25, 2016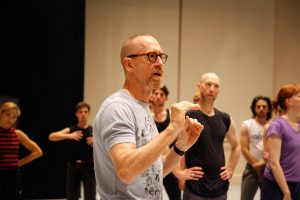 By Celine Kiner
Something clicked today.
I don't know whether it was something from my brain, my body, or the nerves in between, but something clicked.
A year ago, I stood in PED 207 listening to Professor Forsythe and doing my best to emulate the properties of motion he discussed. And sure, I could copy just fine. The sensations that he described, however, were not present. Forsythian movement is extremely complex, employing many qualities and concepts, most notably that of counterpoint. And while a definition of counterpoint made perfect sense to my brain, translating it to my body was frankly impossible for me at the time. A freshman who knew only to copy shapes and revert to strict ballet positions, I was confused, to say the least. I just did my best to listen. Like Ausia said in her recent blog, Professor Forsythe doesn't allow time to get comfortable with a task before moving on to the next one. And so I constantly did my best to absorb information, wondering when these sensations—that I seemingly understood—would translate properly into my body.
That happened for the first time today. I finally positioned my head properly in the Forsythian fashion of épaulement, and as soon as I did, Professor Forsythe noticed.
"There you go, that's it. Everyone look," he encouraged.
A chain reaction was somehow initiated in my brain. Professor Forsythe changed the task to rotation, then added instructions one by one. I incorporated my hips, knees, feet, shoulders, in succession. Finally, I added the house step "loose legs"—or at least, "loose legs" to the best of my ability—and my body was suddenly in its own state of contrapuntal flow. My classmates clapped a rhythm behind me in support. I finally understood the concepts of last year's lectures: counterpoint, rotation, flow, polycentrism, and community. I had, to some degree, understood them before. But now they resonated in me, settling in their proper places and merging into a coherent sentence.
When I finally broke the rhythm, Professor Forsythe laughed.
"I want to make a ballet for you," he said.
I was more surprised than he was at what I had just felt my limbs do, and my jaw must have dropped at his joke.
The first year of information at Kaufman is finally settling in, and just in time—before we jump into a week of ribbon cutting performances, student choreography shows, and repertory showcases.