Student Blog: Dance On! Week
May 8, 2017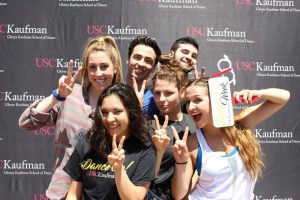 As part of a brand new program, we have the opportunity to develop brand new traditions on the USC campus. One of these traditions that began last year was Dance On! Week. With its purpose of promoting dance across campus, Dance On! Week involves all dance-enthusiasts from BFA majors, dance minors, elective students, dance clubs and crews, and all patrons of the arts. Ultimately, the goal of this event is to expose as many people to dance as possible, and to involve the entire USC dance community in doing so.
The pioneering year
As a member of the inaugural class of 2019, I was able to be a part of the first ever Dance On! Week last year, filled with exciting events from the Elective Experience showcase to a flash mob in front of Tommy Trojan. It was great to see the amount of support we received throughout these various events and how that support has grown throughout our second year as a school. Especially with the flash mob that some of my classmates put together in front of Tommy Trojan, which included BFA majors and non-majors performing together, so many people were exposed to dance as they walked to and from class. Bookended by a dance party led by a student DJ, this event gave the public the opportunity to see dance in a social setting and to be intrigued by it. We hope to show people that art and dance are happening everywhere on campus and to give them the opportunity to get involved through watching and participating in the flash mob. Eventually, we want them to attend a dance performance on the USC campus.
Getting involved
For the BFA majors, Dance On! Week is filled with hours of dance-related activities. Dance On! Week culminates in BFA Spring Dance Performances. I am left inspired, exhausted, yet full of love for the art that I absolutely adore. Last year, we had the unique opportunity of performing with the Martha Graham Company in addition to our BFA performances, which left us humbled and motivated by the awe-inspiring performance quality of the Martha Graham Company dancers. In addition to the BFA performance opportunities, we were able to enjoy the Elective Experience showing. While this semester I was able to perform in the Elective Experience through my Ballroom elective class, it is always such a pleasure to view the Elective Experience as an audience member; the amount of talent and passion for dance around the USC campus is amazing, and non-major performances never disappoint. This year, dance groups and clubs were able to host their own open-to-the-public workshops. It was great to see the turnout for this workshop event and how many people outside of Kaufman were interested in getting involved with dance.
Welcoming our new family
This year, my favorite part of Dance On! Week was the final few days of school where the BFA majors were able to perform at the Bing Theatre and welcome the Class of 2021 to our Kaufman family. It is always so inspiring to see my friends dance, and I realize just how talented everyone in the dance program is when they give it their all onstage. As an added bonus, we held our Admitted Student Reception the day after our final performance, so several members of the class of 2021 were able to take class with us, see our performances, and see what USC Kaufman is all about. This special experience of welcoming in new members of our Kaufman family–along with reaching out to the USC community and inviting them to experience dance through Dance On! Week–helped remind me just how much I absolutely adore my school. I hope that others are able to appreciate dance through our efforts to publicize the art.