Student Blog: A day in the life at USC Kaufman
May 1, 2017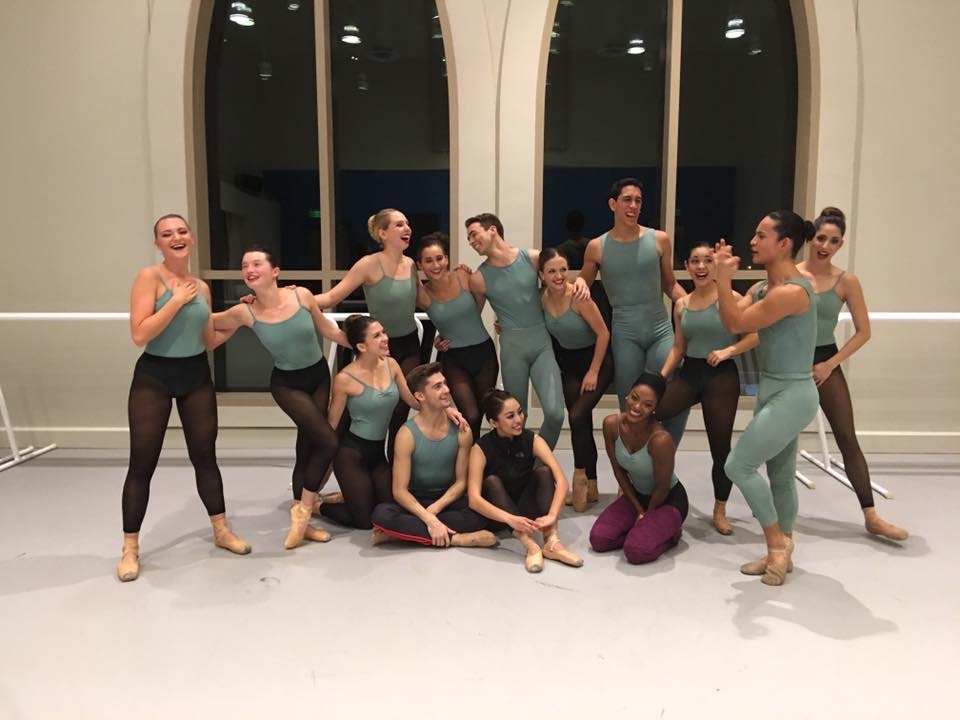 At Kaufman, we function as a conservatory-based program within a major research university. Having that status–as a college student majoring in dance–can mean quite a heavy load. But do not be discouraged by busy college life. I am going to walk you through a typical day at Kaufman.
I am often asked, "What types of academics do dance majors take?" Well, it depends on the student. The amount of general education classes required depends on how many AP credits a student already has, and I personally did not have many, so I am required to take the 10 GE courses that any other university student would take. Our few transfer students have a slightly different academic track than incoming first-year college students.
Every Kaufman student is required to take the core curriculum courses until his or her junior year. Some of these classes include Dance Technique, Repertory and Performance, and Improvisation and Composition. The classes vary from semester to semester, but those three are core classes for the first four semesters. This allows us the option of adding a second major or minor program by the second semester of sophomore year.
For example, I am minoring in political science with a concentration in race, ethnicity, and politics. I have not yet started my minor because I decided to first take a GE class that satisfied two necessary requirements. It just seemed like the most logical choice for this semester. Some of my Kaufman colleagues have decided to not minor and are using those elective credits to take classes in other schools, such as photography classes at the School of Cinematic Arts or vocal lessons with the Thornton School of Music. Here is where our schedules differ, but our daily core classes remain the same.
The day-to-day breakdown
Here is my typical Tuesday schedule:
9am-10:20am Ballet
10:30am-11:50am Hip Hop
12pm-12:30pm BREAK
12:30pm-1:50pm GE: African Diaspora
2pm-3:20pm Improvisation and Composition (In this class, we engage in improvisational techniques and learn how that can inform choreography. In one particular class, we were given 45 minutes to create an 11min piece, which seems impossible. This class definitely prepared me to not think too critically about the choreographic experience.)
3:30-4:50pm Dance for the Camera: New Media & Editing (This semester I am enrolled in a Dance Academic class that is preparing us to view dance in the technological age. I am finding it very helpful to learn the tools to film editing and using those new skills to work on my dance reel.)
After 5pm Extra Rehearsals or Performances
Here is my typical Wednesday schedule:
8am-8:50am GE class – Environmental Studies
9am-10:20am Dance Technique 210: Pointe with Professor Jackie Kopscak
10:30-11:50am Dance Technique 210: Jazz with Professor Saleemah E. Knight
12-2pm BREAK (This is the break in the day where dancers take their General Education (GE) classes, eat lunch (yum!), do homework, or for me, work at Kaufman in my work-study job!)
2pm-4:50pm Repertory and Performance (During this time, we come together as a department to learn, audition for, and rehearse repertory for upcoming performances. This could be the first opportunity in a day that the freshmen and sophomores have to mix and mingle. That's part of why I enjoy this time so much. At this time, as well, we learn the repertory of and have Q&A sessions with guest artists in residence such as Brian Brooks and Wendy Whelan, who used this class time to share excerpts of a duet we watched them perform later in the week at a Visions & Voices event.)
After 5pm Extra Rehearsals or Performances
Finding flexibility within the structure
Each semester has a different focus or intent. Sometimes there will be more of a contemporary-heavy semester or a ballet-heavy semester or even a bboy-heavy semester. The repertory rehearsals are often staged by our Artists in Residence. Zippora Karz, former soloist with the New York City Ballet, stages excerpts of Balanchine ballets every year. Fiona Lummis, former performer with Nederlands Dans Theater, stages Kylian works. Once the piece is cast, those rehearsals may take place during the Repertory performance time or outside of class time.
Beyond Kaufman, we are all USC students, so being involved in other programs is a part of being a Kaufman student. Some of us are involved in Greek life, some are a part of affinity groups or other organizations, and some are in both! I am in a sorority and I also frequent Saved by Grace community choir. It is a juggle sometimes but I enjoy branching out, taking advantage of my resources, and meeting new people. Getting involved in other things is not uncommon for Kaufman students. In fact, it is actually encouraged. Everything is entirely dependent on how much or how little you want to be involved in.
In all, college will be a blast because it's all about what you make of it.
Dance on!