Student Blog: Heels Master Class with Mark Daftari
October 26, 2021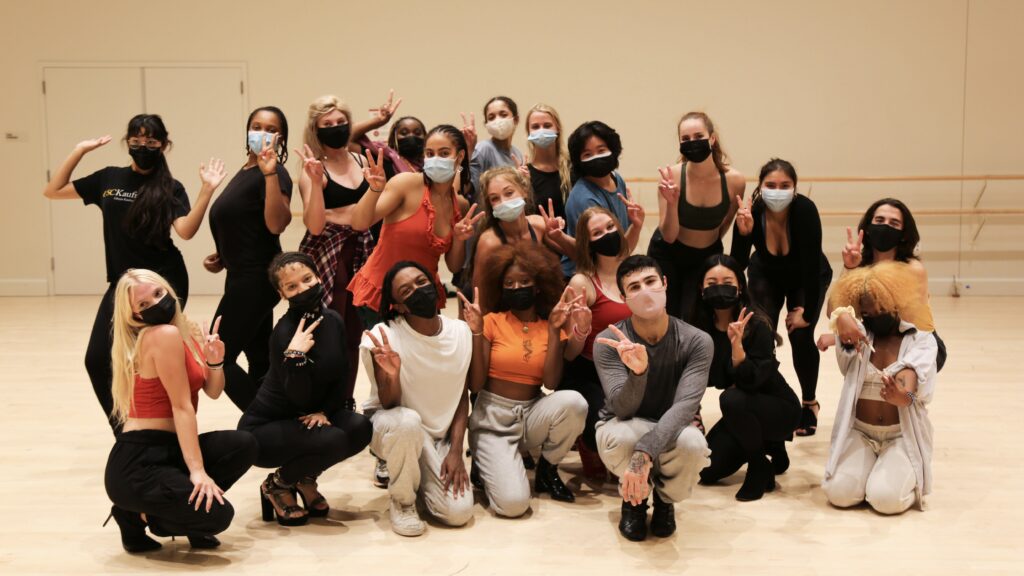 As a dance minor at USC Kaufman, I take elective dance technique courses and lecture courses. The elective technique classes are open to all USC students and are offered at several levels and in various styles. While technique courses are separate for BFA majors and minors, the lecture and theory classes of the two curriculums overlap. USC Kaufman also works to integrate the dance minors into its community by offering opportunities to all of us. The heels master class, organized by USC Kaufman Career Services, was one of these opportunities.
The master class was taught by USC Kaufman alumnus Mark Daftari (BFA '19), who has performed with many artists including Sam Smith, Todrick Hall, Parris Goebel and Yanis Marshall. Daftari spoke about his time as a student and his decision to step back from the concert dance repertory at USC Kaufman to start training in heels and commercial dance.
Heels fundamentals
After warming up, Daftari began class by explaining some of the fundamentals of dancing in heels. As with any dance form, heels has a technique to it, and getting the hang of the shapes of the style can take time. Daftari talked a lot about the intricacies of the style. The head movements are subtle, keeping your chin tilted down and moving it to follow your hips. We practiced standing in a silhouetted shape: foot beveled, knees together, arms back, shoulders down. Next, we learned to walk so as to keep the silhouetted shape, practicing this at different speeds.
Daftari then taught a fun combination filled with nuances of the style, focusing on shapes, textures and rhythm. Wearing heels adds an element of balance, increasing the importance of weight changes. We danced in groups and some solos, spending the last part of the class practicing the choreography. While we all came into the class at different levels of comfortability dancing in heels, this style allows a lot of room for personality, and it was exciting to watch everyone dance.
Creating community
This class was a fun challenge and a nice change of pace from our usual concert dance classes. Daftari was wonderful to learn from, and as a dancer currently working in the field, he had a lot of useful insight to share.
USC Kaufman Career Services provided us with dinner and snacks, allowing us to mingle with other dance minors and BFA students after the class. I thoroughly enjoyed this master class, and always appreciate USC Kaufman's efforts to create community and expand our training.
---
By Hannah Doerr