Student Advice: Kaufman (and other college) auditions
July 12, 2017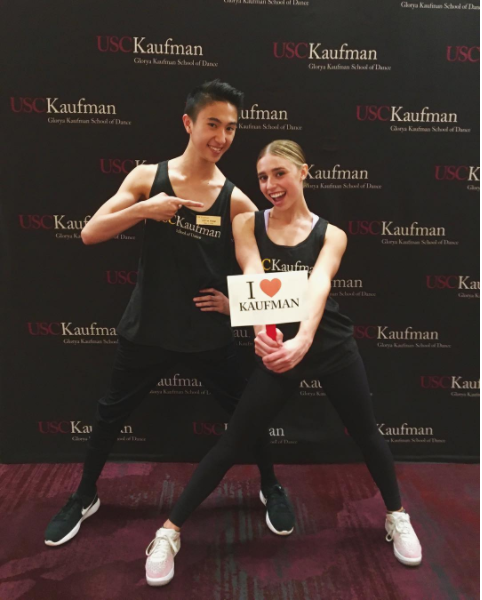 Before you know it, you're finishing up your junior year of high school, and soon to come are college auditions. But don't fret! College auditions don't have to be overwhelming, and can actually be a fun experience as long as you do your research, plan in advance, and prepare your materials early to avoid missing deadlines.
Start with materials
What helped me in the entire college audition process was determining the schools I was interested in and heavily researching what was required–I did this during my junior year. This is important because many of the dance schools require a separate dance portfolio in addition to the school's general application such as the Common App. For example, when I sent in an application for USC Kaufman, I filled out the Common App, which consisted of personal information and essays for the university itself. I also sent in a Kaufman supplement, specifically used for the school of dance. I uploaded a video with two solos (of contrasting styles), a video of myself speaking in response to a written prompt/question, a resume, photo, and other information relating to myself as a dancer and interest in the school.
Something else to keep in mind before your college auditions is making sure that you have a headshot, dance photos, and a clear résumé that accurately shows your experiences as a dancer. The photos do not have to be professionally taken, but most dance auditions expect you to bring something to help remember who you are and what you have to offer. The résumé is important because the faculty wants to know your dance background, accomplishments, and learning and performance opportunities so far in your dance career. This will help them determine if you are a fit for the school.
Going live
The USC Kaufman process continued with live auditions once the faculty had narrowed down the video applications. When I was invited to audition in person, I got to pick from a list of certain dates, when I could fly to Los Angeles and participate in the audition. I came into the audition feeling pretty nervous, but the environment and people were so warm and welcoming that my nerves were replaced with excitement and joy. The live audition consisted of ballet, contemporary, improvisation, and hip hop classes followed by an interview with the faculty and a solo performance. It was a long day, but I loved how it really gave each prospective student a chance to show what they had to offer.
Not all college dance programs require a student to come to the school, since some hold auditions in various cities, but I think that actually visiting can be very beneficial because you can experience student life at the school while you're there. If possible, traveling to the school and speaking to current students is essential to deciding where you'll adjust best.
Finally, the most important consideration when writing essays for applications and dancing at the auditions is to just be yourself. The people who make the decisions are most definitely not looking for perfection and want to see who you are as a person and artist. Just make sure to get all of your deadlines and dates organized, so you can focus on presenting yourself in the best way possible!