Student Blog: Letting go of labels at London's Trinity Laban Conservatoire
April 12, 2023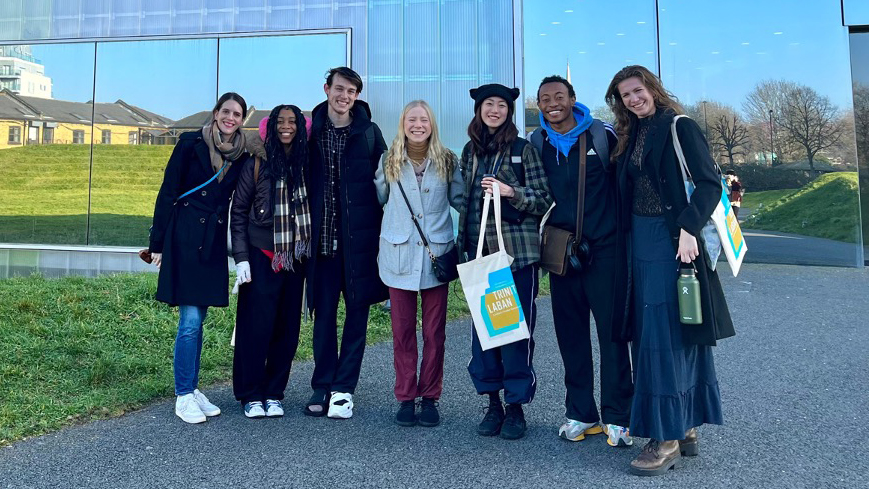 Earlier this semester, six BFA students had the opportunity to travel to London to collaborate with students of the Trinity Laban Conservatoire for CoLab 2023. Trinity Laban's CoLab experience consists of multiple cross-disciplinary collaborations and processes happening during a week-long period that culminates in a showing. I had the wonderful opportunity of partnering with my fellow classmate Maddy Falconer (BFA '23) and Trinity Laban's 4th year composer Franklyn Oliver in leading a process with six dancers and six musicians from all over Europe and the UK.
The process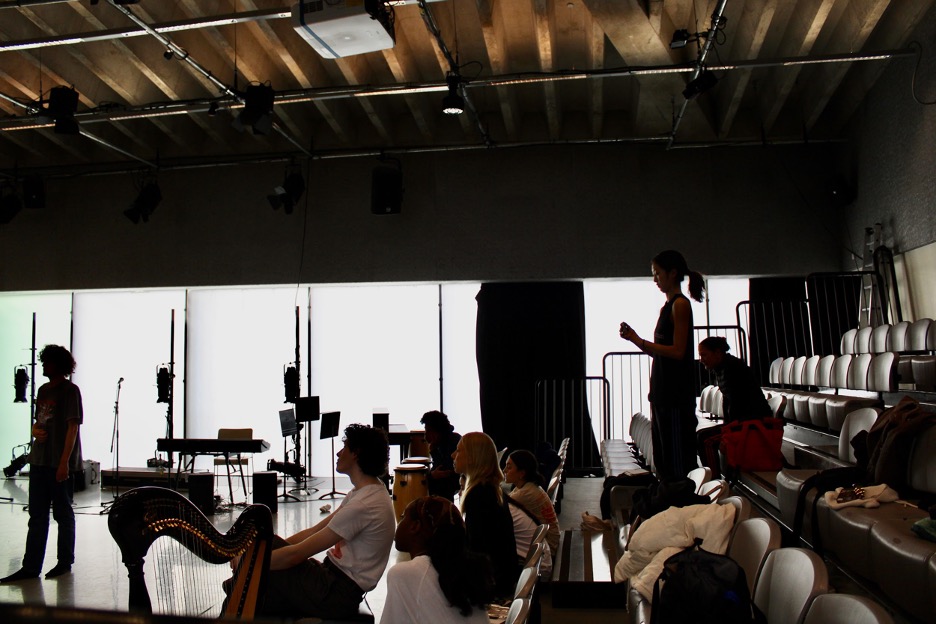 Our days were filled with limitless creativity as we had the freedom to structure a five-hour working day for five consecutive days. We gathered in a singular studio everyday as dancers, musicians, choreographers and composers. As we delved further into our process we let go of the labels, dancers becoming musicians, musicians becoming dancers, and all of us acting as choreographers and composers. Maddy, Franklyn, and I found ourselves in the role of directing. This meant asking the questions, posing prompts, listening to our artists, and building our community. As said by Maddy, "We offered this work as a debate. Exposing the conflict at the common ground between strangers." We approached the prompt A Better Place in a humanistic and political way which required the voice of all the artists in the room. This investigation and research pushed the bounds of how we had previously created before. It was filled with play, games, sound walks, discussions, guided improvisations, writing, listening, and sharing. We created our piece with and for the artists in the room. Our work didn't stop in the studio. After rehearsal, we spent hours with our composer, Franklyn Oliver. We had conversations that bled from coffee to dinner, to walking around the streets of Deptford and Greenwich. These conversations became a vital part of our process, all of the hours spent in conversation circling back to the creative process at hand.
By our fifth and final day, I could feel this shared sense of understanding between our team. It was a collective feeling that could not be expressed in words but was captured in the essence of our work. Together, we had created a shared vocabulary of experience developed through our process. We had the ability to communicate on a deeper level as a collective and I could sense the gratitude in the room for how special our time together had been. As I watched the magic of the lights and performance further transform our work, I felt incredibly proud and grateful to have witnessed and been apart of such a beautiful experience.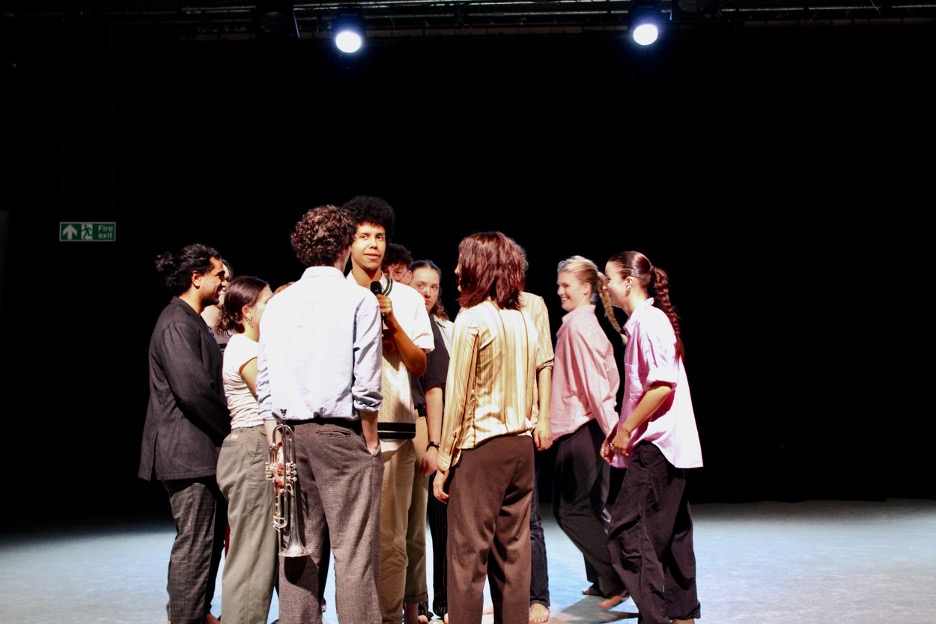 London
Having the experience of traveling abroad during my time at USC Kaufman allowed my vision to further expand. We were immersed in a different culture and a different people that had a different history and a different perspective on the world. I was reminded of all the differences that exist in the world and then was reminded of how our humanity connects us all.
On our day off we had the opportunity of visiting the Tate Modern Museum and the Shakespeare Old Globe Theater. We experienced the food of the multicultural metropolis and walked around different parts of the city, breathing all of it in. We had the opportunity to watch the renowned Royal Ballet perform Sleeping Beauty and on our final evening, we watched the once in a lifetime Punchdrunk production The Burnt City.
Reflection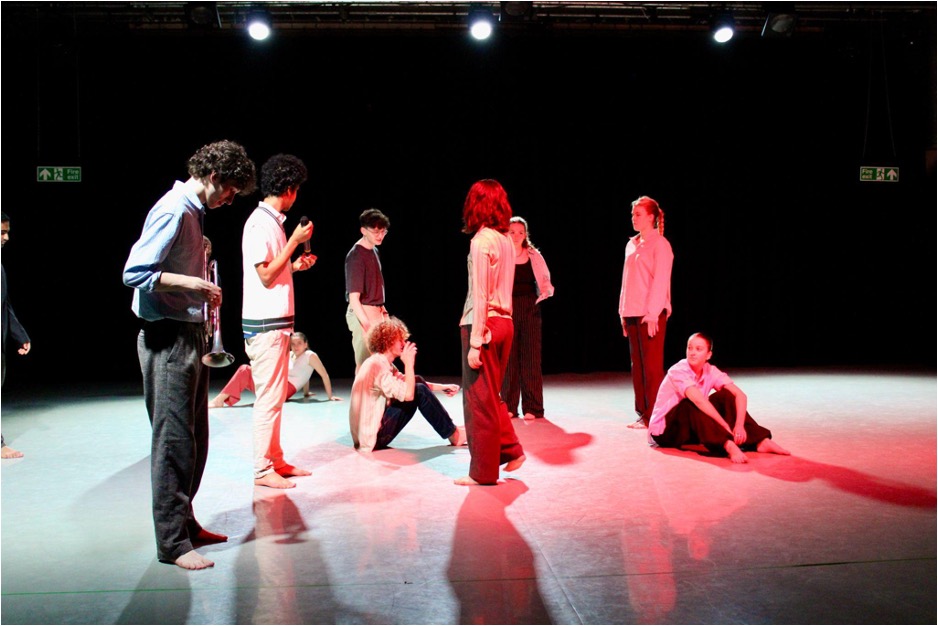 The Trinity Laban CoLab experience was one of the highlights of my time at USC Kaufman. Having the experience of traveling abroad and working intimately with a diverse group of students from all over Europe and the UK is an experience that deeply moved me. At the end of this trip, I knew that my time in London and Trinity Laban had become a defining moment in my artistic career. It gave me hope for what art can do, how it connects us to each other and our humanity, and it affirmed my passion to create meaningful work and communities. What a wonderful way of wrapping up my four years at USC Kaufman!
---
By Eileen Kim (BFA '23)