Student Blog: Being on the other side of auditions…
February 21, 2018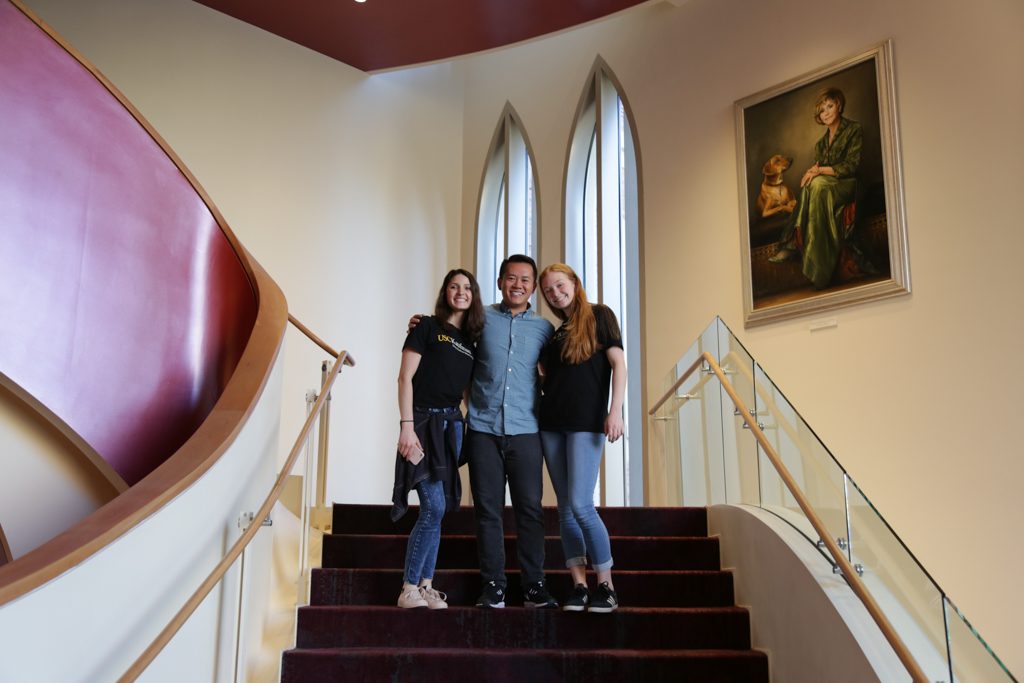 By Chloe Kuka
It's been almost a month, but we can't stop thinking about the insane talent of all the dancers who traveled to L.A. to audition for our program! However, the auditions couldn't have run smoothly without the help of our current student volunteers, who did everything from hosting auditionees in their dorm rooms to making coffee runs for the professors. We asked freshmen Alex, Aurora, Evan, and Zach about their experiences helping out with auditions for the class of 2022.
What was it like to be on the other side of auditions?
Alex: Being on the other side of the Kaufman auditions brought back a lot of memorable moments from my own audition. Organizing the snack baskets, preparing the drawstring bags, and setting up for lunch made me realize how fortunate I am to be at a university that places so much effort in creating an unforgettable audition experience.
Aurora: I became nervous as I helped the auditionees check in; I felt like I was auditioning again! I enjoyed talking to prospective students and their parents as well as bonding with my classmates as we reminisced about our college audition experiences. Being on the other side, I realized how much planning goes into these weekends. There are so many moving parts of each audition, and no detail is overlooked.
What was your favorite part about helping out on audition weekend?
Alex: Personally, I loved the socials the night before each audition. Not only did we get free pizza, Chipotle burritos and Baked Bear cookies, but it was a great way for the auditionees to meet each other. Additionally, the Kaufman students led icebreakers and different games, which heightened the excitement before the big audition day!
Aurora: One of my favorite parts about the audition weekend was hanging out with the dancers in the greenroom. I had a good time getting to know people as they warmed up, and hopefully I helped make them feel less nervous. Seeing how different every dancer was made me excited to meet the class of 2022.
Zach: I think my favorite part about helping out on the audition weekend was hosting. I had the chance to host two different people and showing them life at USC was exciting. What I loved most was hearing their different stories about what drew them to Kaufman and why they wanted to be here. Developing personal connections with those auditioning made me even more excited/nervous for them.
Share an anecdote about your audition, especially if it's embarrassing or funny!
Aurora: As I walked into the studio for my interview, I sat in the wrong seat and had to resituate myself after an embarrassing pause. After my interview and solo, the faculty asked me a few questions about my piece, which I answered completely out of breath. At the end of those questions, I was still breathing pretty heavily, so I did not hear them dismiss me . . . I just stood there. After what felt like minutes, Vice Dean Gates had to ask me if I was okay, and when I said yes, she told me I was free to leave. I was mortified!
Evan: On top of my fear of hip hop, given that the audition class was my first hip hop class ever, I forgot my sneakers at home! Luckily, I grew up in Los Angeles and called my parents about one hundred times until they came to the rescue at the very last second. Needless to say, I was a mess in hip hop, but the sneakers helped.
Zach: As I was standing at the ballet barre in the beginning of class, Kyle, the accompanist, asked me if I had any song requests. I automatically asked for some Britney Spears, not expecting him to actually know how to play any on the piano. The next thing I knew, he was playing "Toxic" for tendus!
What is something you know now that you wish you knew when you auditioned?
Alex: Based on what I know now from the auditions, I wish I would have known that there would be Kaufman students helping at all times throughout the day. This would have prepared me to come with questions to ask the students about the program, student life, and the university as a whole.
Aurora: I wish I had known how supportive Kaufman is of personal growth. Everyone in this program has different strengths, and while we are encouraged to capitalize on those strengths, we are also pushed to improve upon our weaker areas. I feel like I am becoming a better all-around artist, not just a better dancer in one genre. I also wish I had known I would find amazing people in this program. By spending hours together every day, I feel like I have found lifelong friends.
Zach: I wish I would've known that the audition experience is all about showing your own personality and what you bring to the table. It's important to be as open as possible and just relax, even when waiting to hear results!
What did being on the other side of the audition process make you realize about the program?
Evan: How much energy and effort is put into every single student. Every audition a handful of current majors would arrive at Kaufman at 6:45 a.m. just to make sure that when the prospective applicants and their families arrived, they would feel comfortable.
Alex: Interacting with the parents and students alongside the faculty was extremely eye-opening in the fact that Kaufman creates this tight-knit, communal environment. It is rare that programs like Kaufman allow their students to help and participate as much as they do in a typical audition setting. Without our faculty, staff, and student helpers, this incredibly unique experience would not be possible.
Aurora: Being on the other side of the audition process reminded me of how much our professors do here every day. They are constantly working to help us, and are always grading papers and teaching repertory, all while working on their own outside projects and following other passions. My respect for them has grown even more, and I feel lucky to be mentored by them.
Zach: I realized how much effort Kaufman puts into making the audition process personable and fun. Kaufman tries to alleviate the stress and makes the dancer feel like a unique individual, not just another person with a number on their chest.